How (and Why) You Should Make a Story Playlist
A story playlist can open up whole new worlds of brainstorming and inspiration. After all, creativity feeds creativity. Art feeds art. Music feeds thought process and nurtures creativity. We can't paint while we write, but we can listen to music. Doing so while writing can boost productivity, word count, and helps you get to know your story on a deeper level.
Why make a story playlist?
It's true that for some people, music inhibits the writing process. And that's okay! But for those of us who utilize music to move into the creative headspace, manuscript playlists can be powerful and effective.
Music can enhance so many elements of story, as demonstrated by the power of movie soundtracks. Songs have the ability to denote mood, theme, even plot points. They have power over our emotions and can leave people with such strong impressions that they will forever associate a song with a movie, book, or place.
If music has such a powerful impact on us as consumers of story, why wouldn't we use it to craft our own tales?
No lyrics? No problem.
For those who enjoy music but can't concentrate with words going into your ear while trying to write words, an instrumental playlist is the way for you.
Author Max Porter found that songs with lyrics distorted the sense of his story and vision. So he composed his own instrumental music to write to instead. You can listen to his interview on Cillian Murphy's Radio 6 show, where he discusses the process, and can find Porter's Niceness instrumental playlist on Spotify.
Not all (or most) of us are as talented as Max Porter, but luckily we don't have to be. The world contains so much music, we can pick and choose without having to create our own.
On the most basic level, to design a soundtrack for your Work in Progress is very fun — imagining your story on the big screen, picking out the songs that most wholly represent the words that you've put on the page. If you take the time with your playlist, you'll have something to return you to the headspace of this story. When you hear these particular resonating songs, your mind will instantly travel back to your story and all of your ideas associated with it.
Lyrics? Yes, please!
Then there are those of us who find aid and creative boost in lyrical music. We connect with lyrics, drawing them into our story like they belong. These playlists can be immensely helpful to the writing process in a multitude of ways. Some writers find it helpful to have lyrics for the times they're walking, doing the dishes, or participating in other mindless activities so that they can ponder their story through the songs. 
There's no such thing as too many playlists, so you can also make one for writing and one for plotting, or one that's wholly instrumental and one that's wholly lyrical. Whatever you're hoping to put together, we've got tips to make it happen.
Making a story playlist
Begin with the basics
As you comb through the millions upon millions of songs out there, it is simpler to pick one aspect of your story that your Manuscript Playlist will center around. Start with the tone or mood at the beginning.
What tone are you trying to convey? Can you think of a song that perfectly encapsulates this tone? If so, there is the first song of your playlist.
You can continue making your playlist by the shifting tones of your book. I find it to be the easiest, broadest way of picking songs. Add as many songs as you like, maybe for the length of time that you normally sit down to write. Let your playlist be your timer and set the mood for your writing.
However, you might want to make the playlist more in depth by plotting out your novel in song. What lyrics strike a chord with your story?
Think about the subject matter you hope to cover in your manuscript. For everything from nautical adventures to first crushes, there's a song about it.
Writing a revolution story? Maybe start with, "Do You Hear the People Sing" from Les Miserables. Something spooky set during Christmas? "Christmas Ghosts" by Matt Norman. Or how about a group of outlaws? "Renegades" by X Ambassadors. A boy on the run? "Run Boy Run" by Woodkid will get your blood pumping. A road trip through the southern American states? "The Devil's Paintbrush Road" by The Wailin' Jennys.
There are a lot of songs out there about a lot of different story kernels. You get the idea.
In Brief:
As you're curating this list of songs, think about setting, think about mood, think about character and plot.
Why you should spend time on a story playlist
Consider each aspect of your story as you piece together this playlist. Realize that you are thinking about your story as you do this; you are working, you are planning, you are analyzing what you have written, what you know about your own story.
Listening to music enhances the function of the brain's frontal lobe, aka the decision making center. If this part of the brain is activated, your brain is awake and alive and processing. Ideas will flow more readily, and memory is triggered.
Story playlists might seem like a waste of time or a just-for-fun activity. In reality, it is fun; nevertheless you are still spending time with your story in a different way, looking at the plot from a different angle, and thinking about your manuscript through the viewfinder of music.
This can open up your mind to new insights about your book. Compare each scene with the song that correlates with it in your mind. Do their tones match? Are you achieving what you want to achieve in that scene? Is it giving you chills or sweats or heart palpitations or a sense of calm the way the song is? If not, what can you do to enhance that tone?
Keep exploring your story
There is no wrong way to write a book because every book is different. There is no waste of time when it comes to activities concerning your manuscript, whether that's a character questionnaire, an outline, or a mood board. Any amount of time you devote to thinking about your manuscript is time well spent.
And if you do all of this while listening to your perfectly curated Story Playlist, lighting so many parts of your brain up, your story will come alive before your eyes, and you will have an even deeper connection with the world you have created.
Article contributed by Hannah Rials
Read our Latest Articles for Writers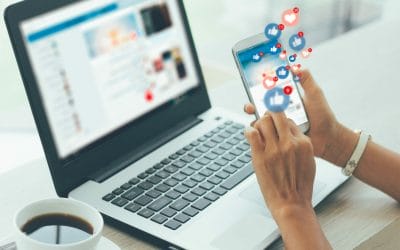 Today we are talking about a topic that intimidates many writers and illustrators, social media. Good news! It doesn't have to.  The key is to choose the platform that is most enjoyable to you. The one you don't mind spending time on and fosters authentic...
read more
Subscribe to our mailing list
Be the first to find our about our newest blogs, offers and news from Write Academy!