How To Write Fiction
Discover the secrets best-selling authors use to craft page-turning fiction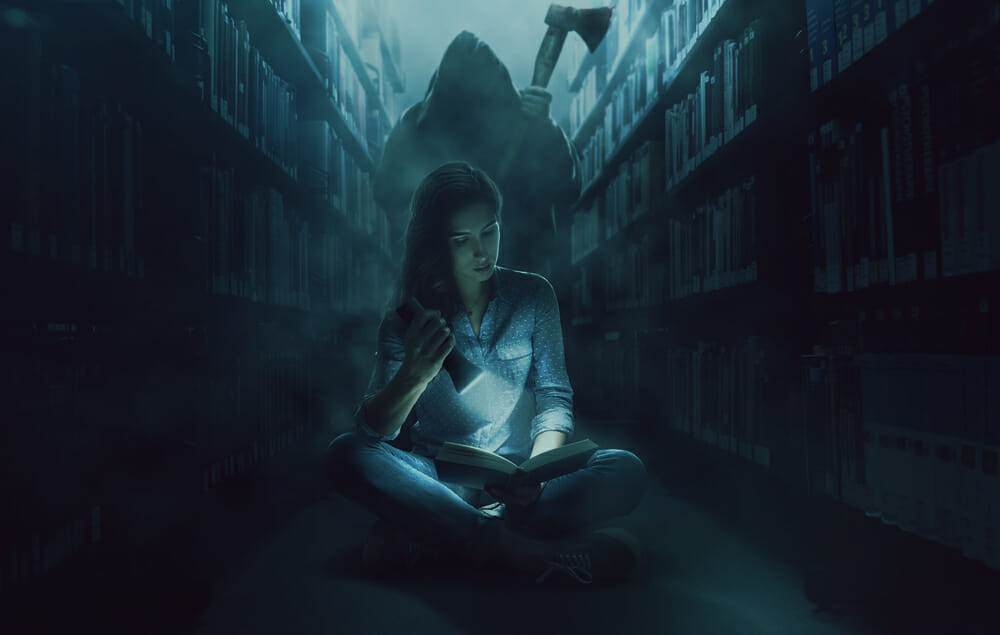 The world is full of aspiring writers bubbling over with enthusiasm, fresh ideas, original characters and thrilling plots – hoping one day to bring them all to life in a novel or short story.
But all too often these stories never get written or published because many would-be writers simply don't know how to turn their words and ideas into something that's good enough to get published.
Writing fiction is a craft – a set of practical skills that anyone can learn provided they have the right information and guidance. And that's where our new, comprehensive, step-by-step 'how to write fiction' online course can help you.
This course not only gives you the know-how, but also the confidence to develop your ideas and get them published.
If you've always wanted to write a bestselling novel but have struggled to get started…
Discover time-tested secrets
Craft Powerful, Captivating Fiction That Gets Published!
As any successful author knows, writing fiction is all about invoking powerful emotional experiences within your reader and connecting with them on a psychological level.
To do this, you need to master several key facets of fiction including: character, plot, setting, dialogue, narrative voice, and genre. We cover them all and much more in this Write Fiction course.
You will learn how to write gripping scenes, add suspense to your writing, craft attention-grabbing titles for your work and uncover marketing techniques that sell books.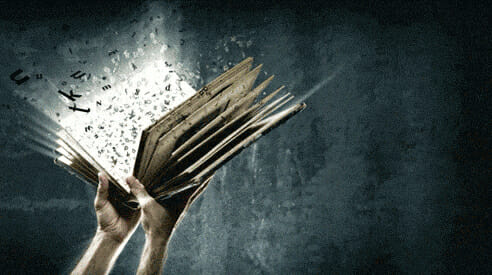 We'll walk you through theme, symbolism, realistic dialogue, point-of-view, and re-drafting, as well as giving you heaps of actionable ideas and indispensable tips for creating exciting fiction that keeps readers gripped.
We've handpicked perfect fitting examples of best-selling authors' work to show you how the professionals create cliffhangers, structure their writing, add specific techniques to create atmosphere and suspense, form shock endings and use euphonic words to create the reaction you desire from your readers.
The Write Fiction course teaches you the very basics as well as the intermediate and advanced skills of writing exciting fiction in a simple, easy-to-understand manner that will not overwhelm your learning experience.
A practical course that builds your story
Write a Bestselling Thriller!
Writing a novel or even a short story can be a daunting process. That's why the Write Fiction Books course has been designed to inspire and stimulate you to start writing from the very beginning.
As you work through each interactive module, you'll be encouraged to follow along through our carefully structured 'Action Points'. These practical exercises will guide you through your own writing project and story, from start to finish.
By the time you've completed this course, you'll not only possess the know-how – but you'll also have the framework of your own original and compelling story already mapped out – saving you time, effort and a lot of frustration.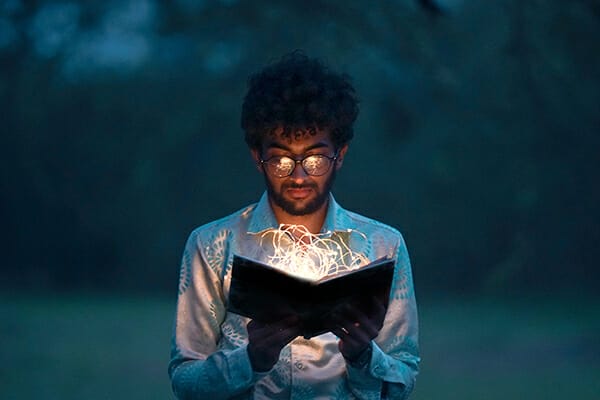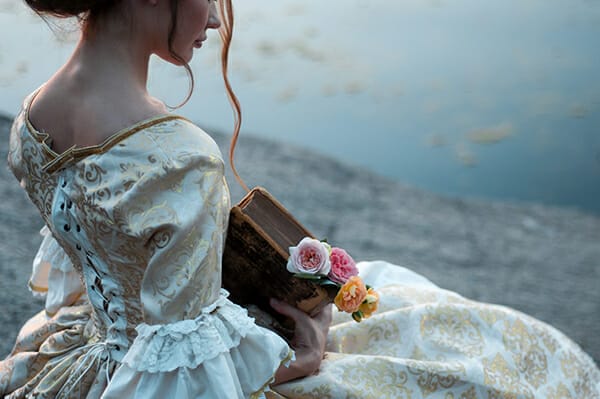 Inspiration, ideas and practical advice

Master Your Craft
The Write Fiction course offers an immersive and engaging learning experience, delivered to you through a powerful advanced online learning engine.
Log in to start learning whenever and wherever you like. From your computer, phone or tablet device, this course is completely cross-platform compatible.
There are no time limits, access is for life! You can view each module as many times as you like until you've mastered each technique. It's the equivalent of working alongside an experienced writer and being able to tap into their knowledge, 24/7.
Click the headings below
14 World-Class Course Modules
Each module has been carefully constructed by an expert team of authors, editors and award-winning professionals to help you transform your ideas and blank pages into compelling fiction. Here's what's included:
Discovering Genres
Module One has been tailored to be the perfect start to your creative journey. This packed module is filled with practical action points; you'll discover what genre is best for your taste and style, as well as what forms of fiction are available to let loose your imagination and much more.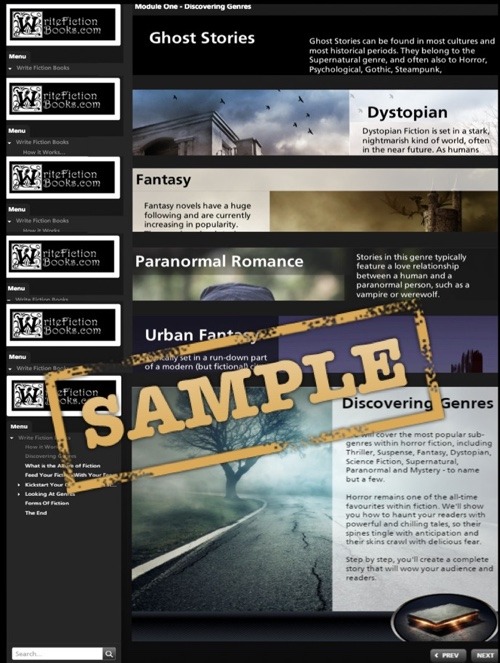 From Idea to Plot
In this packed module, you'll transform your raw ideas into original plots. If you're struggling for inspiration then you can use our fifteen master plot outlines to get started. With a range of writing methods revealed, you're sure to find the perfect one that suits you.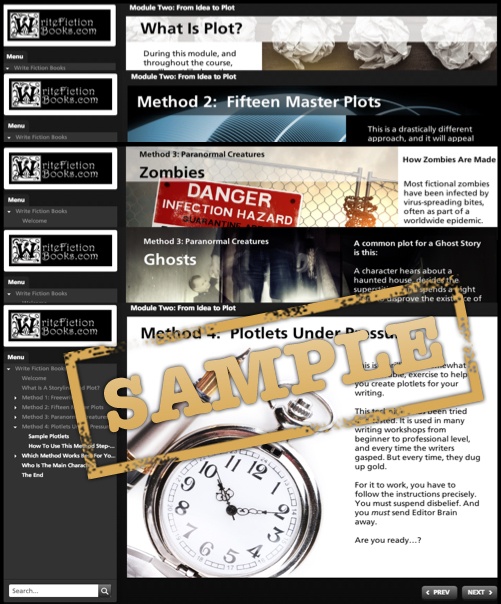 Understanding Your Villain
Delve deep into the world of villains, and discover how to make them convincing and memorable by studying different archetypes and psychological profiles. Watch out for tired clichés and find out how not to fall into their trap.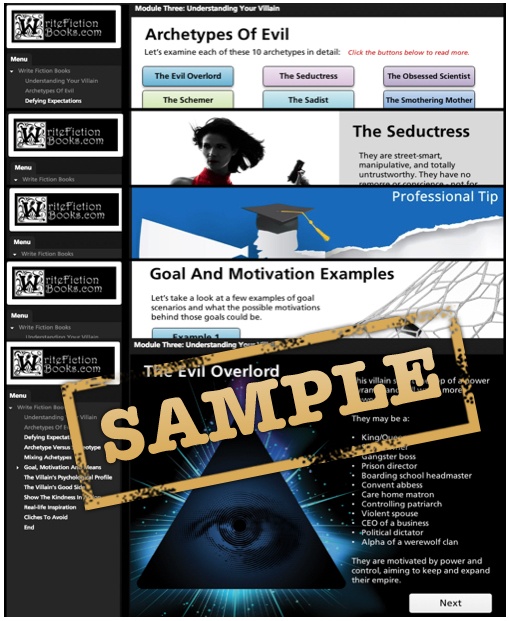 Setting
Discover how to create a spectacular setting for a plethora of genres. Learn to bring it all to life with the use of alluring sounds and pinpoint description, and most importantly – practical location research.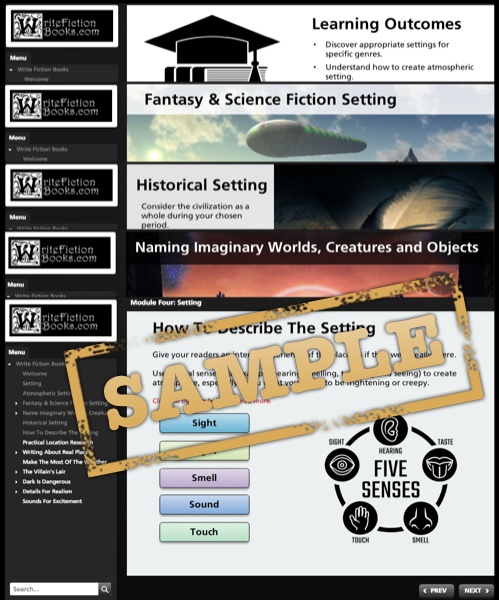 Character and Point of View
Uncover the secrets to create unforgettable characters and clear up any confusion with viewpoints, using our detailed outlines that range from the first person to the third.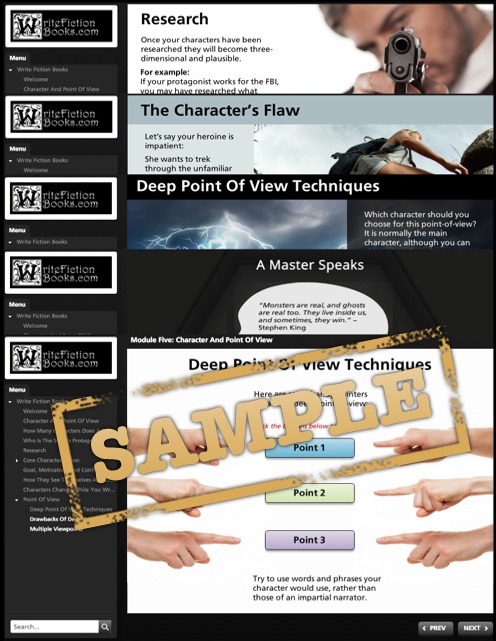 Story Structure
In this packed module, you'll find out multiple ways to start your story and if you're stuck for an ending, use our tried-and-tested ending examples. Also, discover how to decipher symbolism, and add themes to your writing.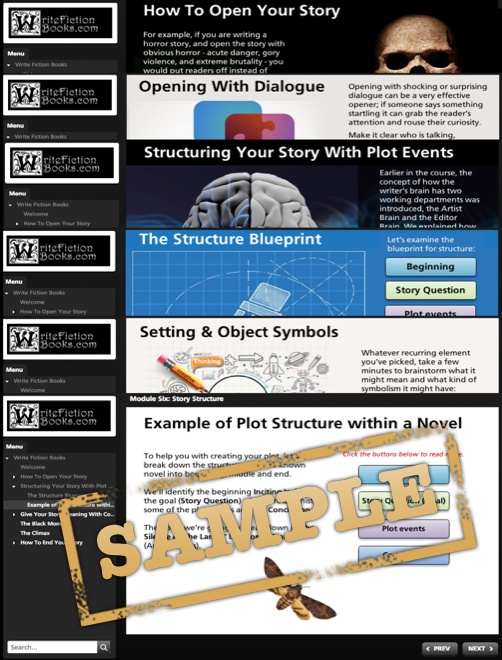 Building Suspense
Become a master of suspense by using our thrilling effects that will leave your readers wanting more. This module discusses all types of suspense for a range of horror and subgenres.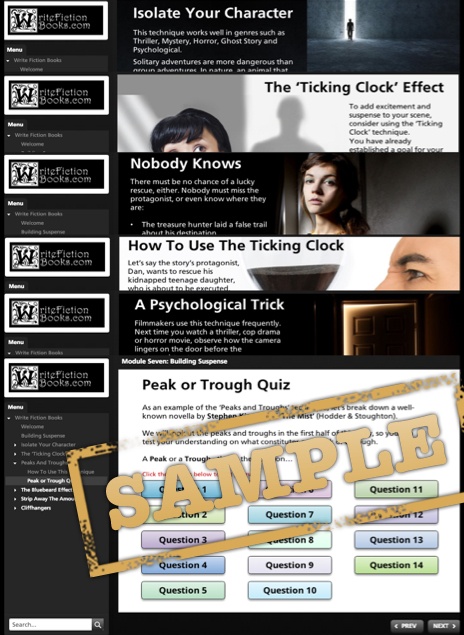 Dialogue and Body Language
Learn to create dynamic dialogue with the help of 'Dialogue Writing Exercises', which will guide you to producing charismatic chatter between your characters. Slip in some action to bring the conversation alive, by studying specific body language techniques.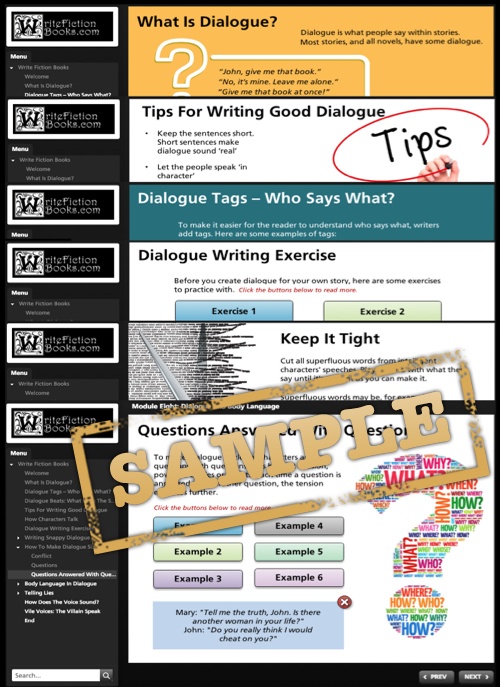 Shock your Readers
Discover how to make your readers gasp in shock and tremble with fear, by studying numerous levels of fear, suspense, and how to vary the intensity. Learn one of the most significant tips in fiction writing, 'Show, don't tell', that will renovate your writing style.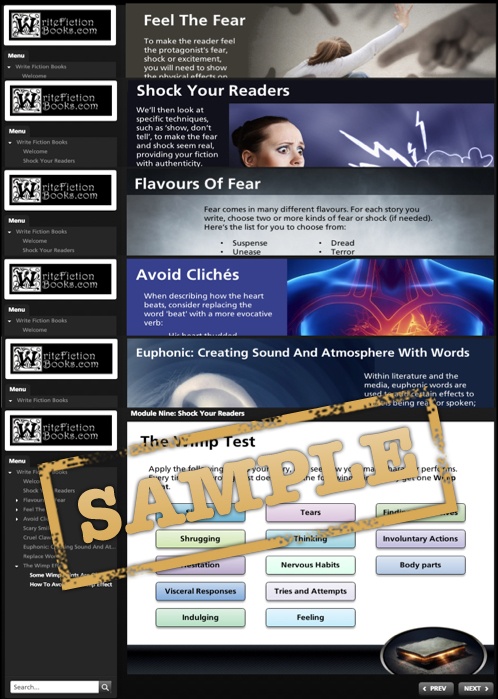 Alternative Scenes
In this action-packed module, you'll learn how to pack-a-punch in your fight scenes and pick-up-the-pace in your chase scenes. You'll be studying how to craft specific scenes with a range of professional techniques.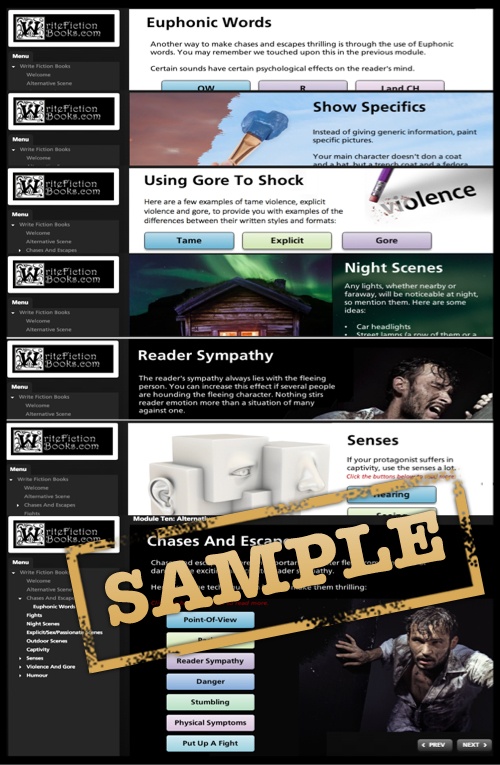 Author Voice
Uncover how to craft and perfect your author voice to make your writing noticeable with the use of practice exercises, metaphors, and verbs. Learn mistakes and beginner flags to avoid, to help save you time.
Revise your Story
Learn how to revise your writing into a perfect piece of fiction. After completing your story the hard work doesn't stop there, but completing this module will make the revision task easier and save time.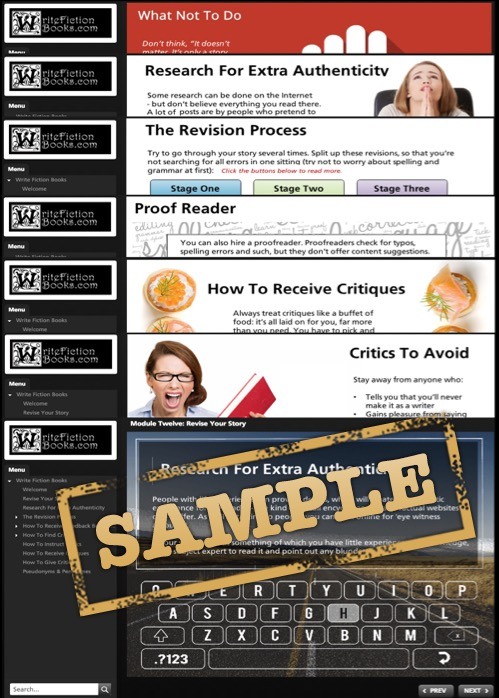 Getting Noticed
Find out how to get your writing noticed, whether that's by literary agents, publishers, or competitions. Use examples of a cover letter, synopsis, and manuscript to help you look like a professional from the off!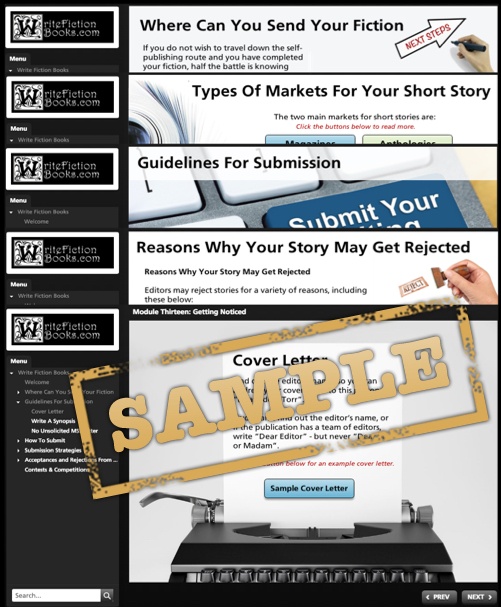 How to Build Success as a Writer
Becoming a successful author is no easy feat, so we've packed this module full of insider information. There are also loads of handy hints for marketing yourself and your writing.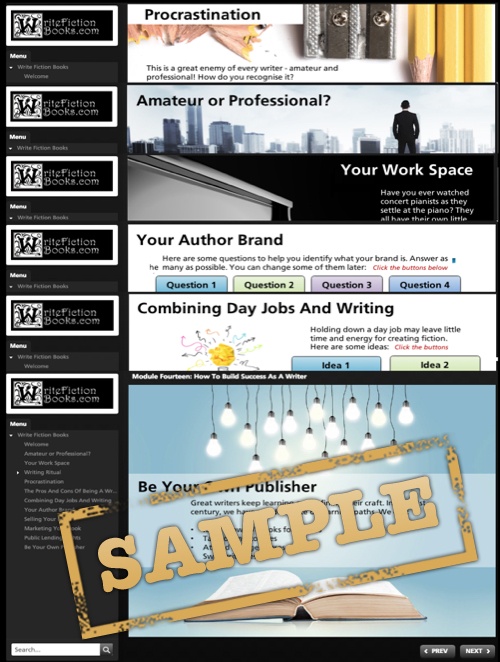 Insightful learning
Here's What's Included…
14-Module Course
Learn the craft of fiction writing with this step-by-step training.
Certificate of Achievement
Gain a genuine fiction CPD Certified writing certificate. Looks great on the wall. Impresses at interviews!
Downloadable Extras
Extra bonus training, resources, templates, checklists and more.
Action Points
Builds your story as you work through the course.
Insider Intel
Little-known industry secrets from published authors.
Inspirational book examples
Packed with handpicked extracts to precisely illustrate each point in the course.
24/7 Lifetime Access
Study in your own time and at your own pace 24/7.
FREE BONUS REPORT:
Untold Secrets of Prolific Fiction Writers!
The moment you register, you'll also gain instant access to this valuable report where you will meet ten of the world's most successful authors.
You'll discover the strategies and productivity routines they use to achieve levels of success most writers can only dream about.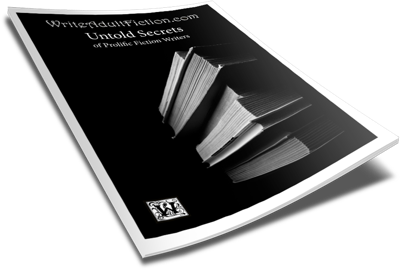 Are you ready to make the leap?
Write Fiction does more than just teach you a few tricks to improve your writing. It's a complete A-Z 'how to write fiction' course that can truly change your life by elevating your love and enjoyment of writing to a different level.
Join thousands of aspiring fiction writers worldwide who are discovering the art and craft of writing page-turning fiction.
Buy the Write Fiction Course Today
and get a
FREE

Printed Course Textbook (Worth )
LOW STOCK: Only

62

16

Copies Left!
The printed course textbook contains the full online course content along with exercises, action points, and fill-in-the-blanks templates.
This means you have nothing to download or print and you can write directly into the textbook as you work through the course.
You'll learn fiction writing even quicker and easier and you'll have a wonderful guide to refer to whenever you're crafting your next bestseller!
Take advantage of this incredible offer to get the Write Fiction course at a discount and get a printed course textbook shipped to your door absolutely FREE!
Here's what you are getting today:
✔

14 Module Fiction Writing Course

✔ FREE TEXTBOOK (worth )

✔

 Action Points

✔

Printed Certificate of Achievement

✔

Lifetime access & updates

✔

 Free Bonus Report

✔

30-Day Money-Back Guarantee
Price:
Offer:
What Our Students Say
Don't Take Our Word For It…
Everyday we receive messages from grateful and delighted students telling us how their ability, confidence and lives in general have been transformed because of this course. Reviews like these (verified by TrustPilot):
Frequently Asked
About The Course
Do I need to attend any classes?
No. The course is entirely e-learning, which means that all modules, tests and resources are delivered to you online through our secure e-learning platform. There are no physical classes to attend. One of the great benefits of e-learning is that you can study the course online, during times convenient to you. Best of all, we give you full life-time access.
Do I need any computer or technical skills?
No. We have designed this course with the most technically challenged user in mind! If you can point and click a mouse (or touch and swipe the screen on your Smart Phone or Tablet device) then you can take this course.
Are there any age restrictions for registering?
The age range of our students varies significantly from school and college students, right up to senior citizens. The course content has been designed to accommodate anyone of any age and ability. However, in the interest of children's online safety we do have a minimum age requirement of 13 years. See our terms and conditions for more details.
Can you tell me who created this course?
Write Fiction Books is the product of many hundreds of hours of work and experience by a world-class team of bona fide best-selling fiction authors and online training experts.
Do I need any writing experience or qualifications?
No prior knowledge, experience or qualifications are required to take this course. The course has been designed for everyone from absolute beginners to keen amateurs; we have assumed nothing in advance. The language used is designed to be simple to understand and the course interface intuitive and easy to follow with no complicated jargon.
How long do I get access to the course for?
You get full, unrestricted life-time access to the course which you can access at any time 24/7. There are no time limits, no restrictions of any kind and no pressure whatsoever!
Are any books or manuals sent to me?
No, all learning is carried out via our secure E-Learn website, all the course content is online for you to access at any time 24hrs a day. The great benefit of e-learning is that you can study at home in your own time and at your own pace.
You can combine achieving professional standard training along with a qualification, in and around your job and family commitments. It is this level of flexibility that makes our e-learning course the ideal choice for most people. All you need is a computer or hand-held device with internet access to take this course.
Will this course be relevant to my country?
The Write Fiction Books course has been created by a team of international best-selling fiction authors, professional editors and established publishers worldwide.
The information, principles, techniques and strategies taught within this course are universal and therefore completely relevant to aspiring and published authors worldwide. Currently, we have students taking the course in more than 50 countries.
Frequently Asked
The Modules
What are the specific modules I will study?
You can learn more about each of the 14 modules within the course here. As part of Write Fiction Books you also receive automatic access to additional areas of the site, such as our download area containing additional training materials along with our chat wall and discussion forum.
Do I have to take any tests during the course?
Yes. We have developed an advanced self-assessment testing system designed to ensure an efficient and effective learning experience. At the end of each module there is a multiple-choice self-assessment test consisting of 10 questions (18 tests in total).
Each test has a minimum passing score which you must achieve before you can move onto the next module in the course. You can take each module test as many times as you like until you pass, at which point your passing results are recorded in our national database and contribute towards your final score. Our testing system assesses your answers and calculates your score instantly.
This means no more waiting days or weeks for an assessor to mark your results and get back to you, like other more outmoded courses.
How am I graded?
Your overall passing grade is calculated as you move through the course and complete each module test. Your final score is an overall average grade of all 18 module tests. Your final grade is then printed onto your pass certificate.
There are no time-limits for completing individual modules and no time limits for taking the tests. However, once you decide to start a test it must be completed in one go. You cannot stop a test midway through and return to it later, like you can with the course content. You can view your course history and your current overall grade at anytime during the course.
We're positive you'll find it a delightful, relaxing and effective way of learning.
What is LearnLock™ Technology?
LearnLock™ Technology has been scientifically developed by award-winning e-learn experts to 'lock' the course training in your cerebrum, which is the large, outer part of the brain that controls your reading, thinking, and learning.
Using a proprietary blend of expertly crafted content, stimulating imagery, subtle animation, color psychology, smart interactions, lively simulations, fun gamification, and practical quizzes, LearnLock™ Technology enables a typical learner to effortlessly absorb the course material incomparably quicker and easier than 98% of conventional online courses, which use basic text or video alone.
The result is not only a significantly more immersive, engaging and enjoyable learning experience but vastly enhanced retention and recall of key knowledge and skills.
Can I view the course on my Smart Phone or tablet device?
Yes! The course is fully compatible with all tablet devices such as iPads. This course has also been beautifully designed to work within any browser on a tablet, smart phone, computer or laptop.
Frequently Asked
Certification
Can you tell me more about the certificate I will receive?
Everyone who completes the course receives an attractive pass certificate which details all of the modules you have completed. Your certificate will indicate a percentage grade to show how well you have completed the test questions.
You will receive a self-printable PDF version of your certificate which you can download immediately on completing the final module of the course. A high quality, professionally printed edition is available on request.
What are your company's credentials?
As a Registered Training Provider and internationally accredited company, you have the assurance that our team have undergone rigorous quality assurance inspections, and have met stringent criteria and background checks to ensure that both our company and the training we deliver meet the highest standards.
Write Fiction Books has also been awarded exemplary accreditation by CPD (Continuing Professional Development). The CPD Certification Service provides a formal, independent certification of organizations, materials and development activities. These certificates are commonly sought out by teachers, doctors and other professionals to further their career and credentials.
We are also a trusted training partner of schools, colleges and training institutes worldwide.
Our Promise To You
Write Academy stands behind every course with an iron-clad 30-day money-back guarantee. If for any reason (or no reason at all) within 30-days you decide to cancel your course, then our support team will happily provide you with a refund in full. No hassle. No questions asked. You are completely protected.
100% Satisfaction
|

Zero Risk

|

Guaranteed