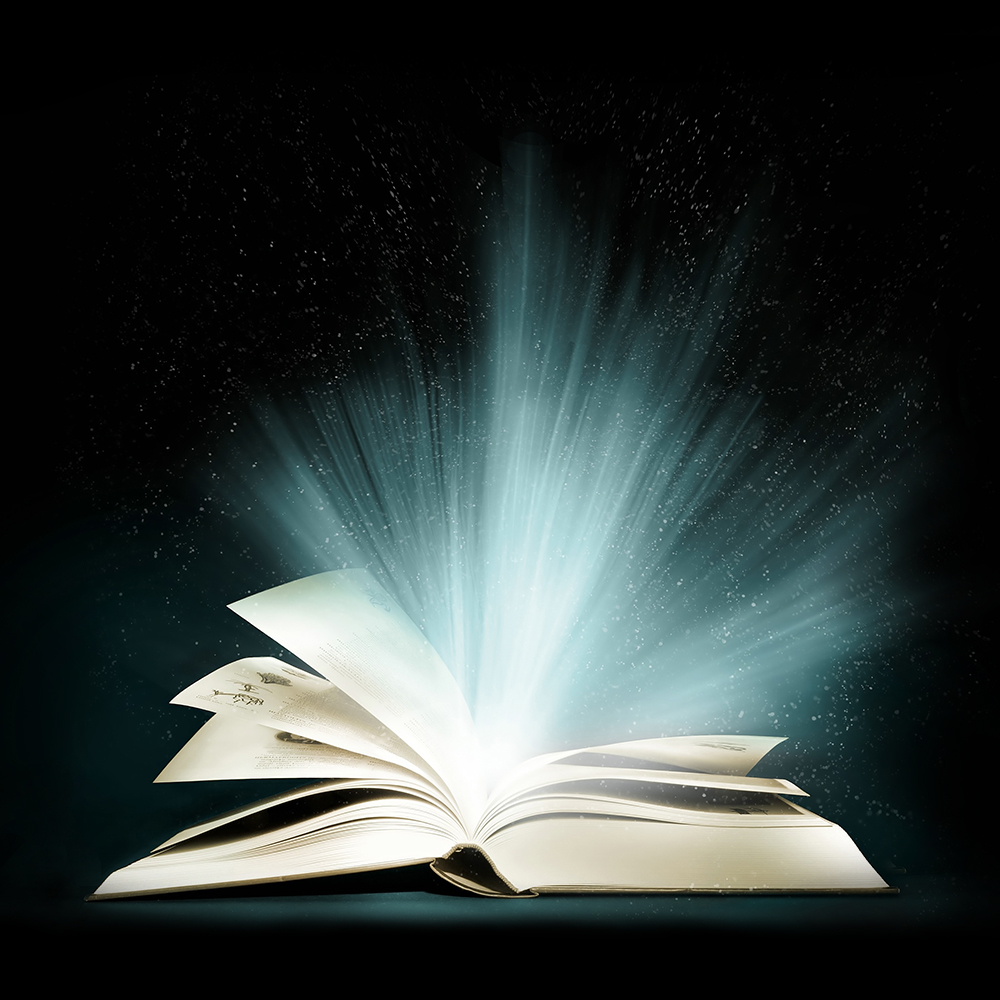 Discover the secrets successful authors use to write bestselling fiction books!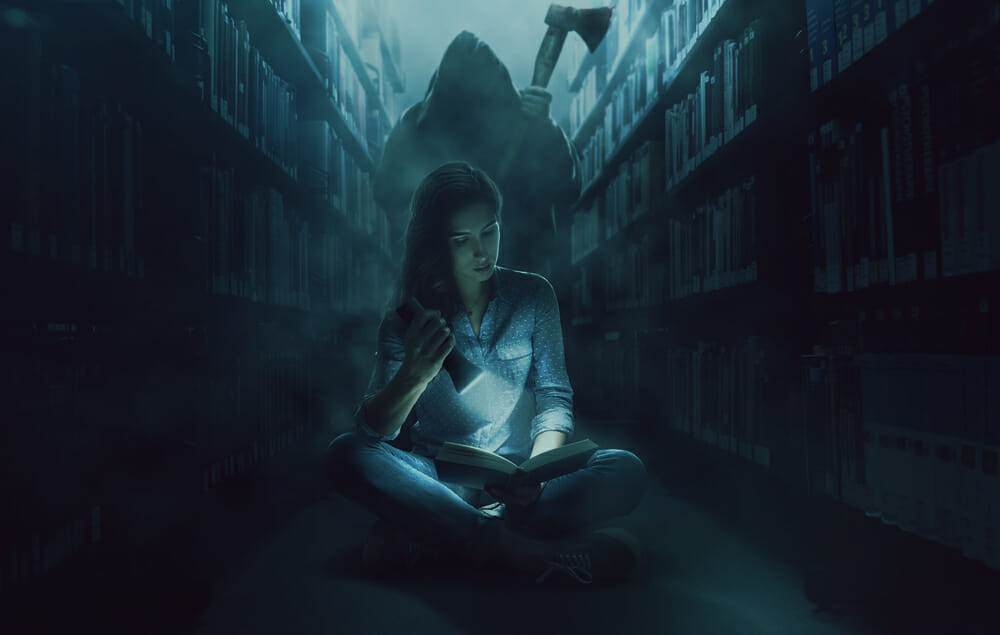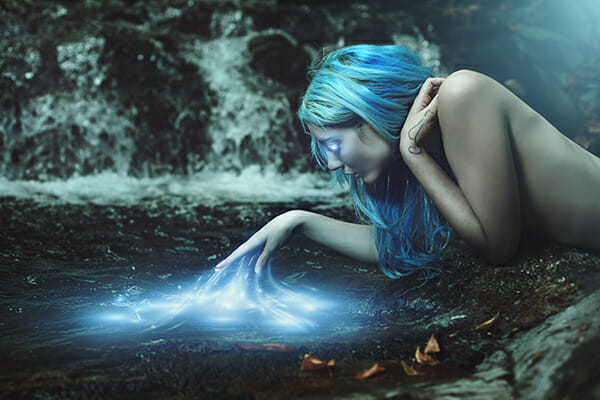 Achieve Your Dreams
How to Write Fiction Books
Writing a fiction book is a life's ambition for many people. Yet, few ever achieve that dream.
Why? Most, burdened by family and work commitments, simply don't have the time and energy left to write. Others carry wonderful ideas around in their head, yet have no clue how to turn them into words that children would want to read.
If this is you, then we understand exactly how you feel. There's nothing more frustrating than having a good idea for a fictional story, yet not being able to get started.
Tired, frustrated and disheartened, you end up feeling like a failure because you can't seem to find the time, energy or inspiration to write. And when you do, the words never seem to turn out the way you wanted them to.
If you've always wanted to write a fictional story but have struggled to get started…
Share the secrets
Practical, In-Depth Course
Until now, the only ways to learn the 'secrets' of writing fiction stories was to attend expensive classes, hire a writing coach to guide you, or piece together scraps of information from across the internet.
The big problem with these methods is they can be incredibly expensive, hugely time intensive, and completely overwhelming.
For a beginner fictional writer, it just isn't worth the risk.
These problems made us appreciate the need for a practical, in-depth course that anyone could follow in their own time and at their own pace.
We invited some of the world's top fictional authors and editors to share their secrets and work closely with us to create a superb step-by-step course packed with expert guidance for all those would-be writers.
People just like you…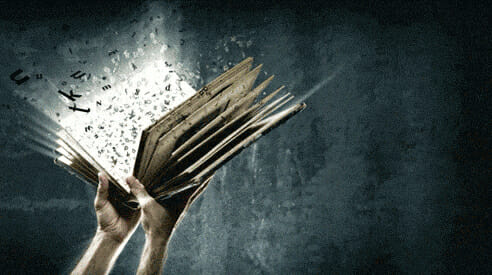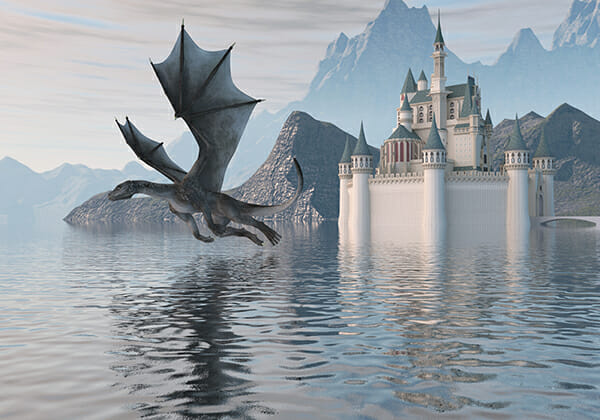 The Result? The Write Fiction Books online course, which gives you all the guidance and intensive, in-depth help you need to write fiction books – even if you haven't written a thing since high school.
Avoid Mistakes That Annoy Editors
Thorough Guidance
Discover How To…
Artistic & Practical
Capture Your Audience's Hearts
You'll learn the little knacks of shaping or pacing a story, the effective adjectives that make a character leap off the page and into children's hearts and imaginations, the little-known approaches that make the difference between a publisher tossing your story on the reject pile or reading your work straight away and so much more.
This advice is artistic and creative. Yet it also offers you shrewd practical help on how to write in a way that will appeal to fiction and publishing editors alike, how to market your work to publishers and how to write in a disciplined, thoroughly professional way.
In this packed 18-module online writing fiction books course, authors, editors and publishers alike pass their secrets on to you.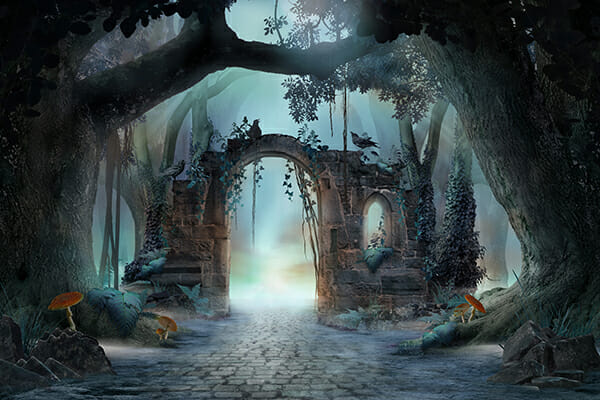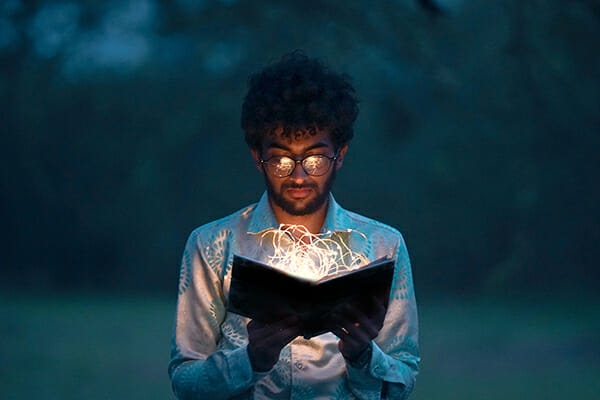 Insightful learning
Secrets Such As…
Getting Started
How to get started on that all important first page – the tips and tricks you need.
Vital facts
The vital facts you MUST know before you even switch on your computer or lay out your pens – if your time and enthusiasm isn't to be wasted.
Bring your characters to life
The simple but effective touches to bring a character to vivid life – and why you should watch your local newsstand very carefully indeed!
Age groups
How to select an age group to write for… and discover what they really want!
Manuscript masterclass
Submitting a manuscript can be as daunting as writing it. We'll give you our proven 14-step success formula to follow.
Work like a professional
The way to approach your work with professionalism and how this will mark you out from the amateurs in the eyes of publishers.
Publishing mistakes
What you must never, ever do when you approach publishers.
Dealing with publishers
How to deal with publishers. Everything you need to know to ensure you get the best possible deal and don't get ripped-off.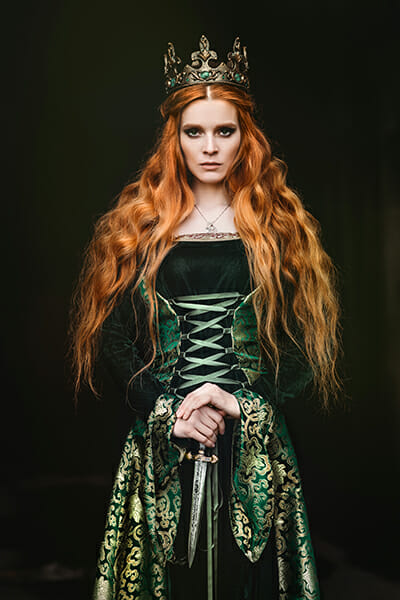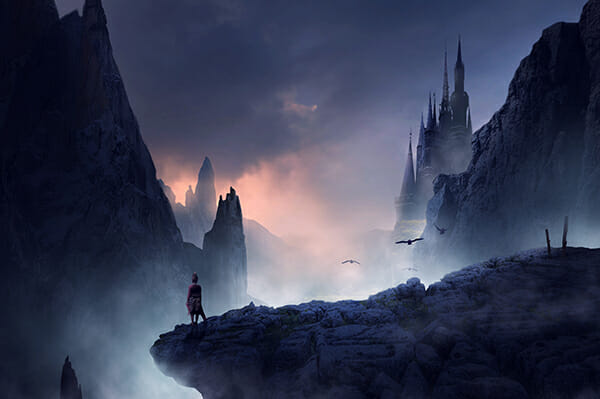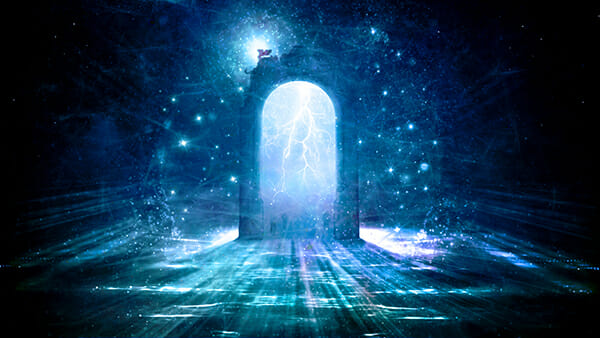 Common traps
The 12 most common traps writers fall into and detailed advice on how to steer safely clear of them.
Genre secrets
The secrets of writing mystery, adventure, horror and humorous stories.
Secrets of the bestsellers
Why do some children's stories sell millions and others barely cover costs? The answer may surprise you.
Naming your characters
The little-known power hidden in the names you give your characters.
Story ideas
A simple yet dynamic technique you can use to generate more story ideas than you'll ever have time to use. You never need to be short of ideas again.
Effective negotiation tips
How to negotiate lucrative merchandising deals into all your publishing contracts. Pay close attention here and it could save you much heartache.
Pen names
All about pen names. Should you use one? How do you choose one?
Illustrators and designers
Discovering more about designers, illustrators and picture researchers and how to collaborate with them.
TV, theatre and film
How to write for TV, theatre and film. Get this right and it can lead to big success!
Digital publishing
The latest, cutting-edge techniques for self-publishing children's books on the internet.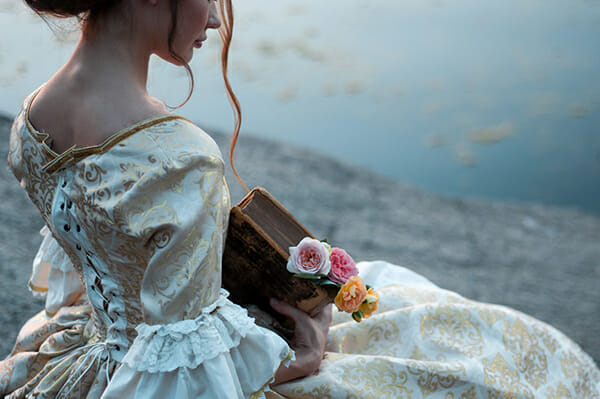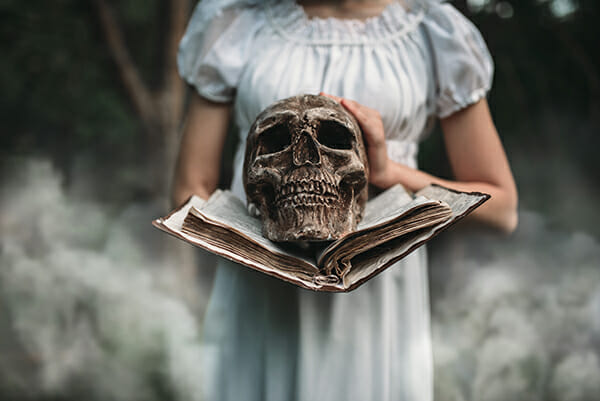 Cutting-Edge Content
Master Your Craft
Children's novels are written in a much simpler language than adult novels, which reduces the burden on the writer – but don't be fooled into thinking that it's easy!
Like anything else, you must learn your craft first.
And that's why we've created this course in such a readable, easy, vibrant style with nothing academic or dry about it.
Creative Content
Each Module Is Full of…
Beat The Burden
Pressure-Free Learning
Through this course you'll be privy to the routines, rituals and productivity techniques successful children's authors use to beat procrastination, transform their energy and write book after book – despite the burden of family commitments and full-time jobs.
You will get valuable insights into their lives, as they share their closely-guarded methods, daily structures and unique approaches to their work while communicating their enthusiasm and love of writing.
During these 18 carefully and lovingly crafted modules we will help and inspire you to start writing from the very first page. You will discover how to create the time, energy and space amongst the frenetic activity and pressures of everyday life to finally write that book you've been thinking about.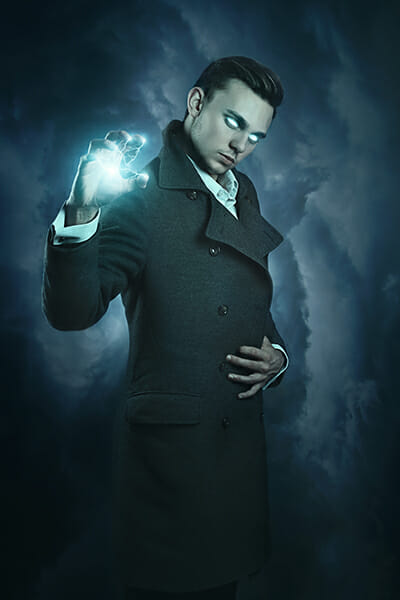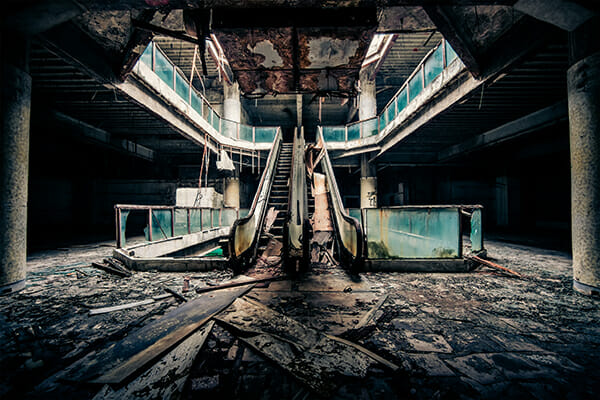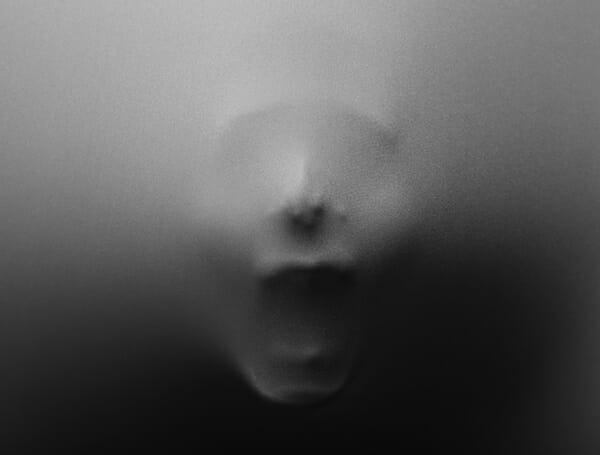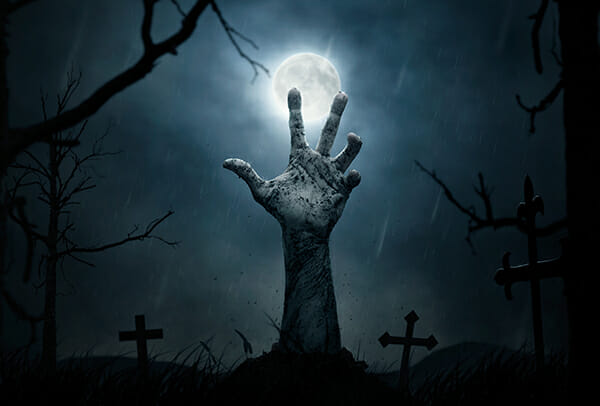 Unleash Your Natural Creativity
Create Something Special
We can't make you the next J.K. Rowling but we can guide you along the right path and steer you around the pitfalls. From the very start, we will unleash your natural creativity and allow your imagination to soar free.
As you progress you will begin to live out the excitement you knew as a child at the magic phrases, "Once upon a time," and "Let me tell you a story." Fire-breathing dragons, misunderstood teenagers, spirited princesses, haunted houses, talking animals – as a children's author you'll have the enviable pleasure of bringing them all to life while spending your time inventing.
By the end of this course, you will possess the knowledge and skills you need to create something special, worthwhile and lasting. Perhaps, like our some of our writers, you'll go on to create a great legacy by writing lasting classics that will be read around the world and loved for generations.
Above all, you will gain an unmatched sense of personal achievement and pride through creating stories that put smiles on the faces of the children in your life.
Starting is simple
All You Need Is…
Extraordinary Detail
Live Happily Ever After!
Write Storybooks for Children offers you a creative writing course of extraordinary detail, care and expertise with an unbeatable peace of mind assurance, plus the chance to unleash your creativity, boost your enjoyment of life and your appreciation of the world around you.
'Write Storybooks For Children' is the world's most popular writing for children course now trusted by over 140,000 people of all ages, nationalities, and abilities. Most of our students had no prior training, qualifications or knowledge in writing stories for children before taking this course.
With the in-depth, imaginative and engaging guidance of this course combined with the world-class development team behind it, you could be the next best-selling children's author… and live happily ever after!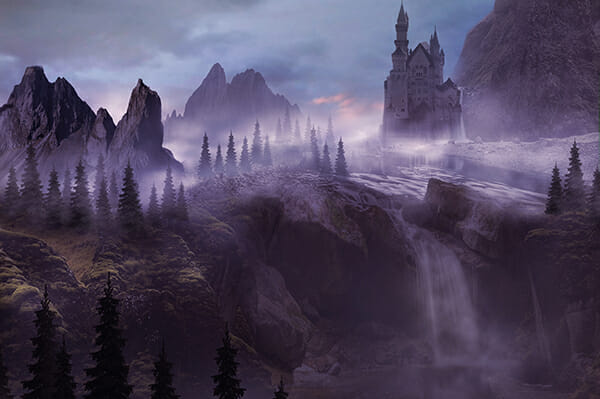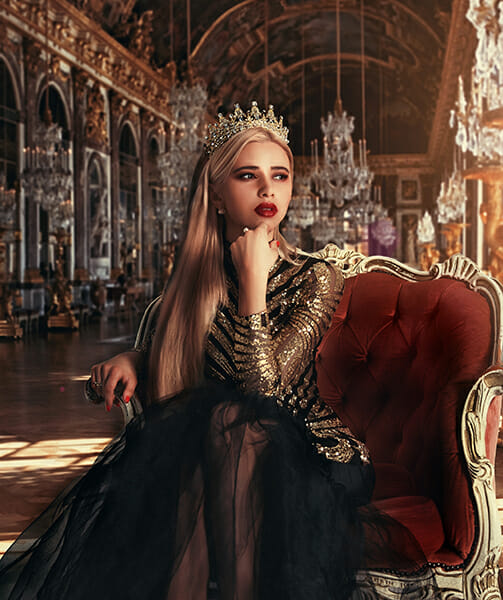 What Our Students Say
Don't Take Our Word For It…
Everyday we receive messages from grateful and delighted students telling us how their ability, confidence and lives in general have been transformed because of this course. Reviews like these (verified by TrustPilot):
"The course was set out into modules, which helped you feel like you were achieving throughout the course. The content was clearly written and provided useful tips without patronising. Having worked in on-line education and training for a number of years, I would definitely recommend the course."
Emma
Review verified by TrustPilot
"This course was better than expected. It was captivating enough to hold my attention and intriguing enough for me to complete the course. This course is packed with useful information. I would definitely recommend this course to others."
Dione
Review verified by TrustPilot
"I really enjoyed the course and felt every aspect of the subject was thoroughly covered. This course made me feel as if I was being shown the ropes by a good friend of mine, one more than willing to share their secrets."
Gavan
Review verified by TrustPilot
"This is a great place to start learning about writing and the cost is highly competitive too. The course encourages accelerated learning by being modular and progressive."
Sharon
Review verified by TrustPilot
"The confidence boost I needed. Everyone has that story they want to put down on paper but don't have the time or confidence to commit to. This course helped me to focus on the right points and gave me the boost I needed to give writing books a go."
Jessica
Review verified by TrustPilot
"I have always been interested in writing books, and when I saw this course I thought why not?! I started the course and completed it in less than a week, all with a small baby at home! I would recommend this course to anyone and everyone! Thank you!"
Catherine
Review verified by TrustPilot
"This was a great course and loved it. So easy to go through and took me no time to finish it. Everything was amazing and perfect I learned all the things I was missing and can't wait to start my book now. Highly recommend this course to anyone wanting to write."
Lara
Review verified by TrustPilot
"I just finished the course. I have learned a great deal, and now I can't wait to apply what I've learned to my writing."
Chris
Review verified by TrustPilot
"Better than any college and graduate courses I have taken. I am so impressed with the quality of this course."
Suzy
Review verified by TrustPilot
"I thoroughly enjoyed this writing for children course. The lessons were packed with so much valuable information. I took the course over 6 weeks to allow the lessons to sink in. So much to be learned in a few short modules so I best get back to module one and start over!"
Jody
Review verified by TrustPilot
"The course was packed with lots of information and advice and although I cannot remember it all I can go back into the course at any time to remind myself. Lesson 14 hopefully will be very relevant when I have written my first children's book!!"
Juleen
Review verified by TrustPilot
"This was a very insightful and on occasions testing course. It was delivered in a relaxed but informative style with just a hint of sarcasm and realism (a British style!). I very much enjoyed it and would recommend it to anyone considering a career in writing or indeed publishing."
Derek
Review verified by TrustPilot
Click the headings below
14 World-Class Course Modules
Discovering Genres
Module One has been tailored to be the perfect start to your creative journey. This packed module is filled with practical action points; you'll discover what genre is best for your taste and style, as well as what forms of fiction are available to let loose your imagination and much more.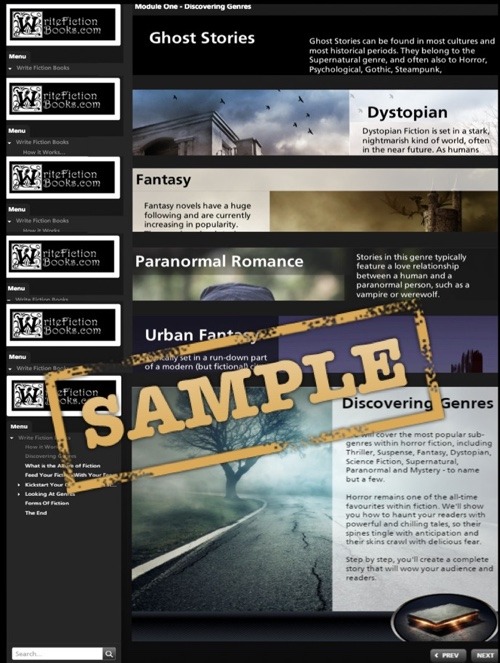 From Idea to Plot
In this packed module, you'll transform your raw ideas into original plots. If you're struggling for inspiration then you can use our fifteen master plot outlines to get started. With a range of writing methods revealed, you're sure to find the perfect one that suits you.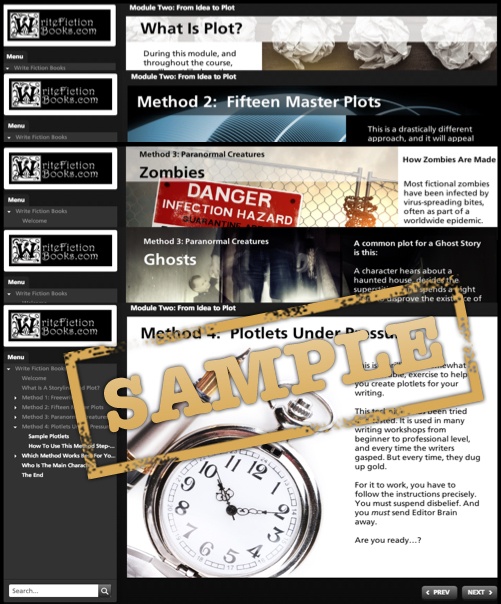 Understanding Your Villain
Delve deep into the world of villains, and discover how to make them convincing and memorable by studying different archetypes and psychological profiles. Watch out for tired clichés and find out how not to fall into their trap.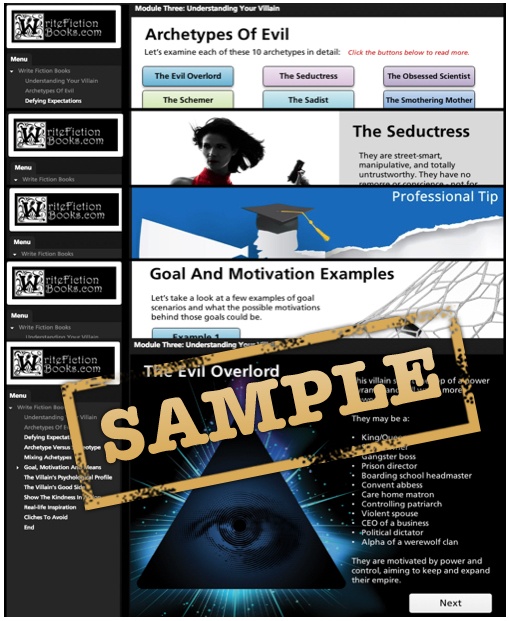 Setting
Discover how to create a spectacular setting for a plethora of genres. Learn to bring it all to life with the use of alluring sounds and pinpoint description, and most importantly – practical location research.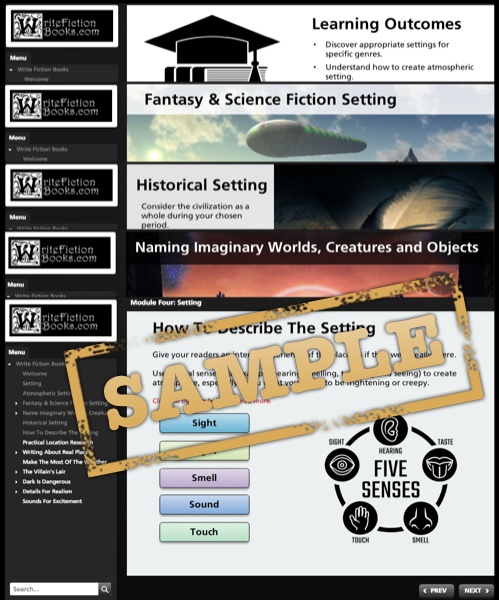 Character and Point of View
Uncover the secrets to create unforgettable characters and clear up any confusion with viewpoints, using our detailed outlines that range from the first person to the third.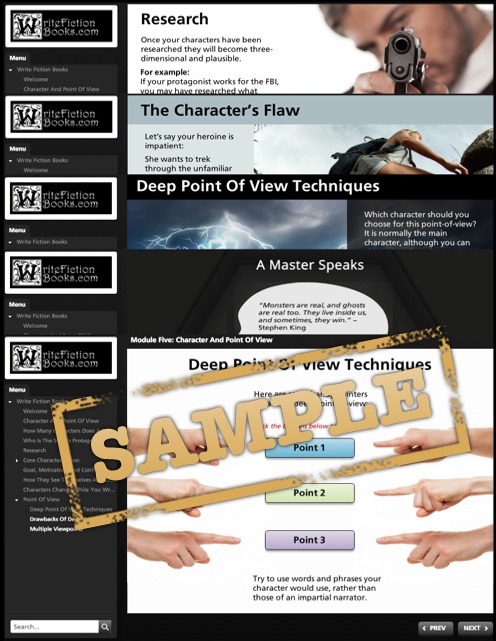 Story Structure
In this packed module, you'll find out multiple ways to start your story and if you're stuck for an ending, use our tried-and-tested ending examples. Also, discover how to decipher symbolism, and add themes to your writing.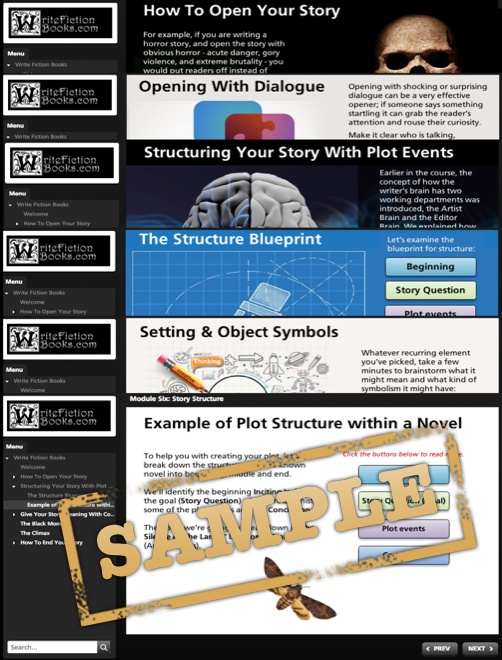 Building Suspense
Become a master of suspense by using our thrilling effects that will leave your readers wanting more. This module discusses all types of suspense for a range of horror and subgenres.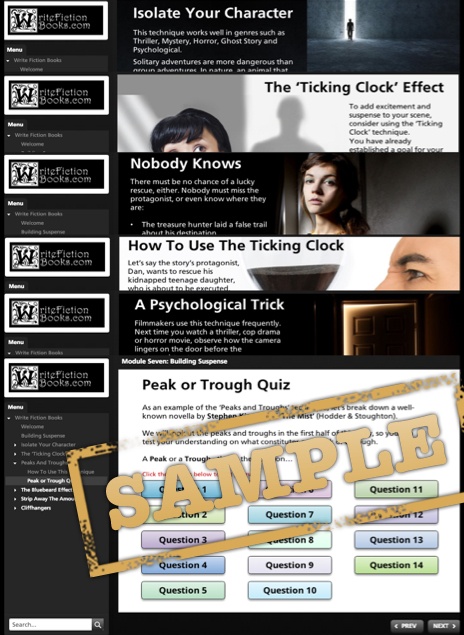 Dialogue and Body Language
Learn to create dynamic dialogue with the help of 'Dialogue Writing Exercises', which will guide you to producing charismatic chatter between your characters. Slip in some action to bring the conversation alive, by studying specific body language techniques.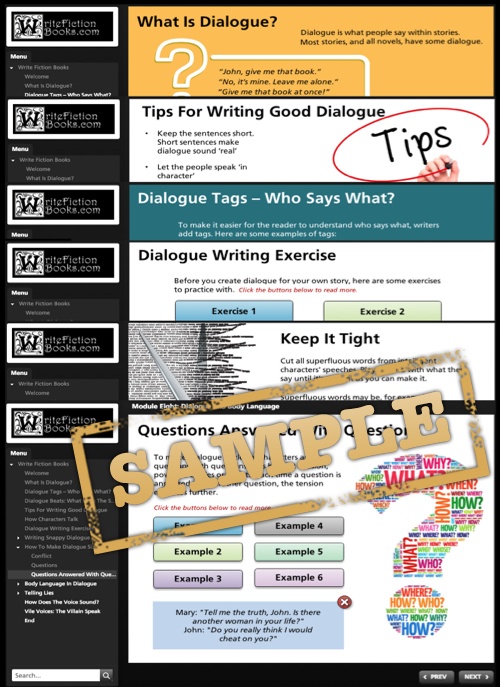 Shock your Readers
Discover how to make your readers gasp in shock and tremble with fear, by studying numerous levels of fear, suspense, and how to vary the intensity. Learn one of the most significant tips in fiction writing, 'Show, don't tell', that will renovate your writing style.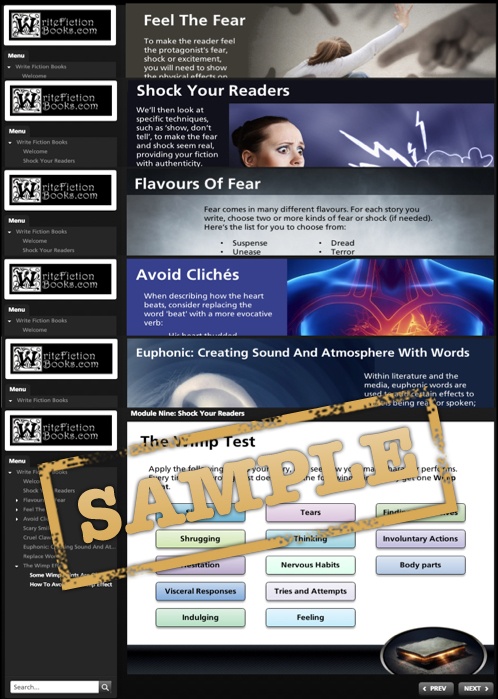 Alternative Scenes
In this action-packed module, you'll learn how to pack-a-punch in your fight scenes and pick-up-the-pace in your chase scenes. You'll be studying how to craft specific scenes with a range of professional techniques.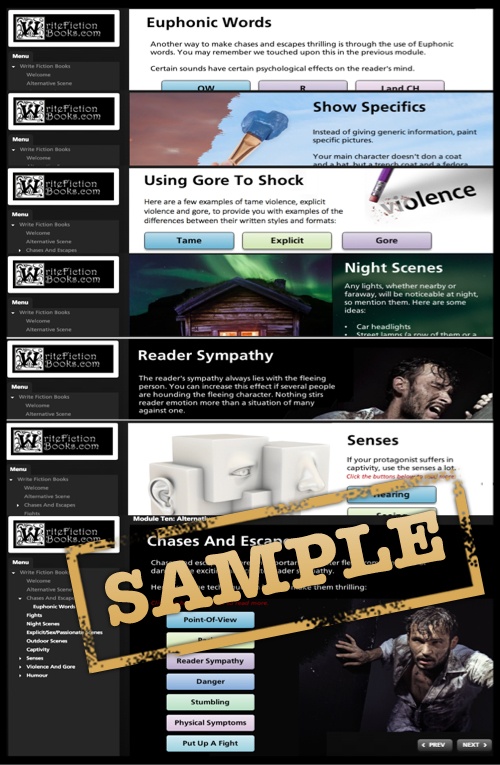 Author Voice
Uncover how to craft and perfect your author voice to make your writing noticeable with the use of practice exercises, metaphors, and verbs. Learn mistakes and beginner flags to avoid, to help save you time.
Revise your Story
Learn how to revise your writing into a perfect piece of fiction. After completing your story the hard work doesn't stop there, but completing this module will make the revision task easier and save time.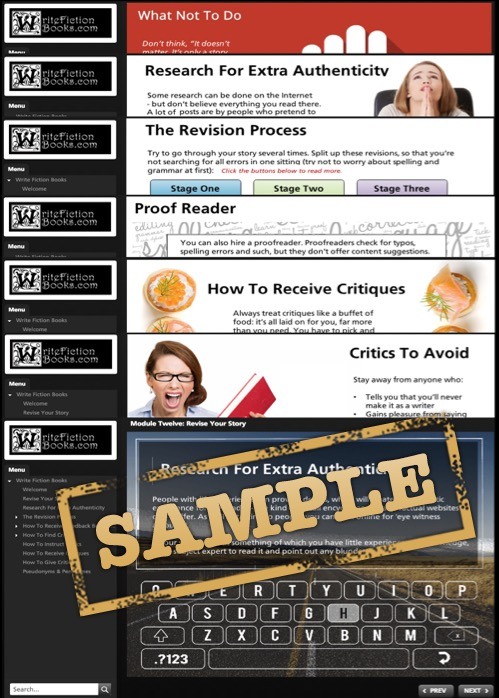 Getting Noticed
Find out how to get your writing noticed, whether that's by literary agents, publishers, or competitions. Use examples of a cover letter, synopsis, and manuscript to help you look like a professional from the off!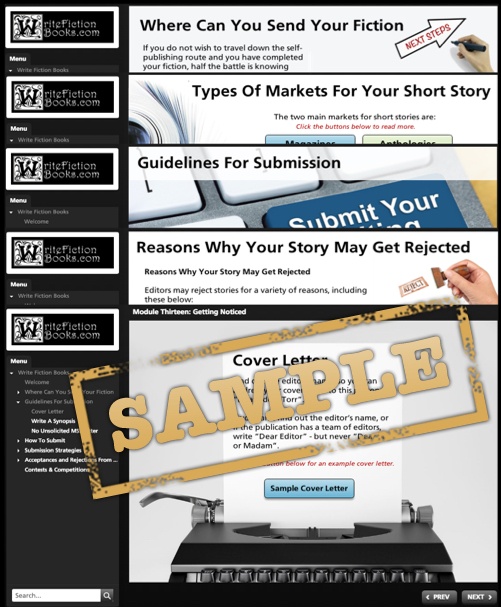 How to Build Success as a Writer
Becoming a successful author is no easy feat, so we've packed this module full of insider information. There are also loads of handy hints for marketing yourself and your writing.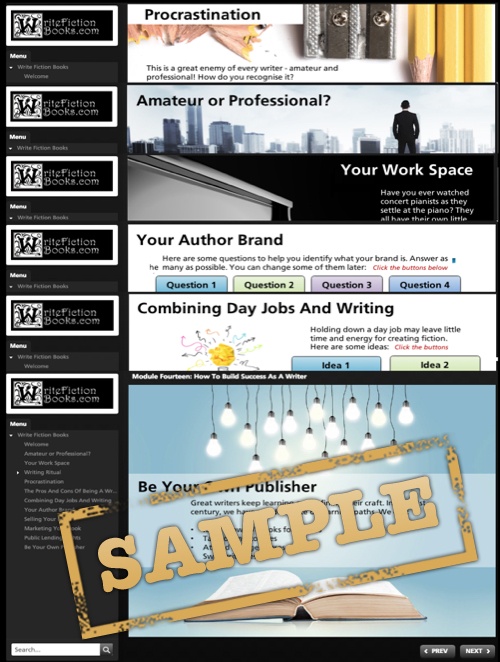 Get Certified in Fiction Writing
The world of fiction writing is your oyster with the training, confidence and an official 'Write Fiction Books' certification behind you!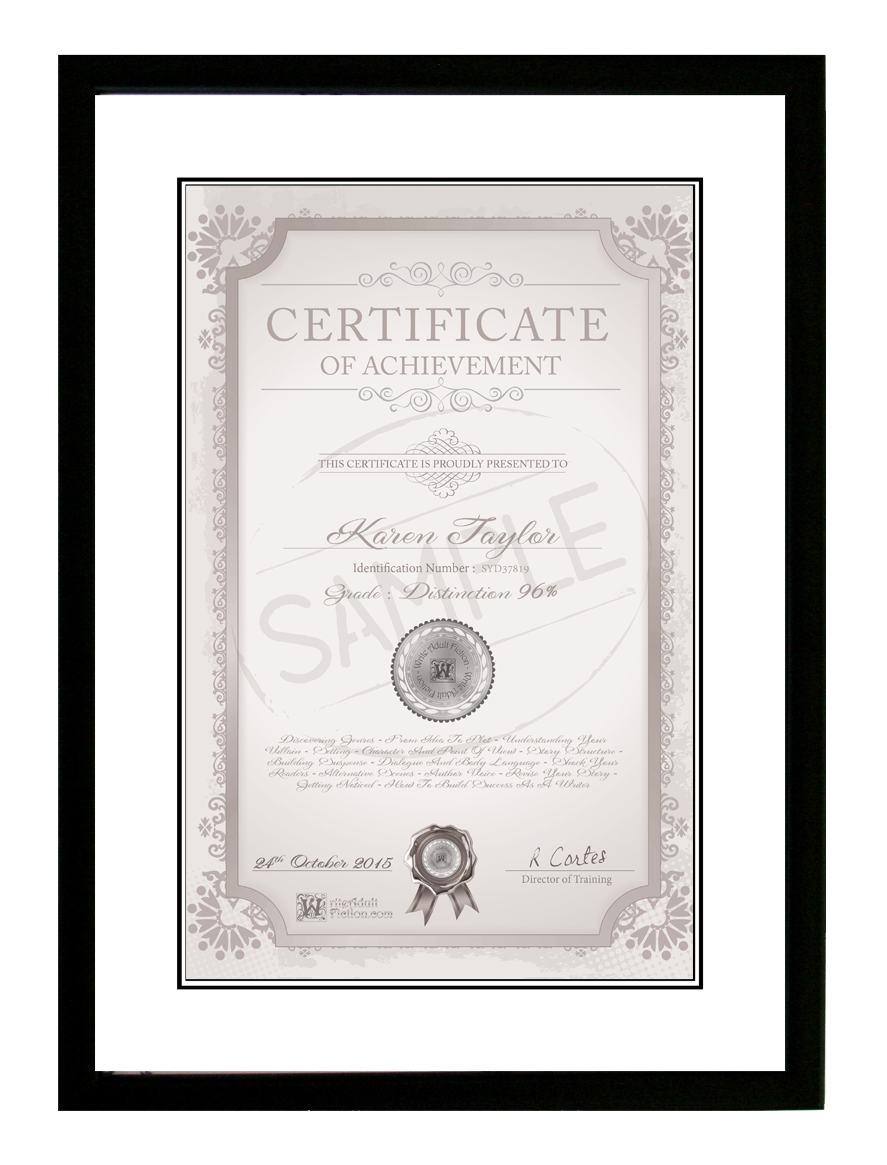 Get Certified in Fiction Writing
The world of fiction writing is your oyster with the training, confidence and an official 'Write Fiction Books' certification behind you!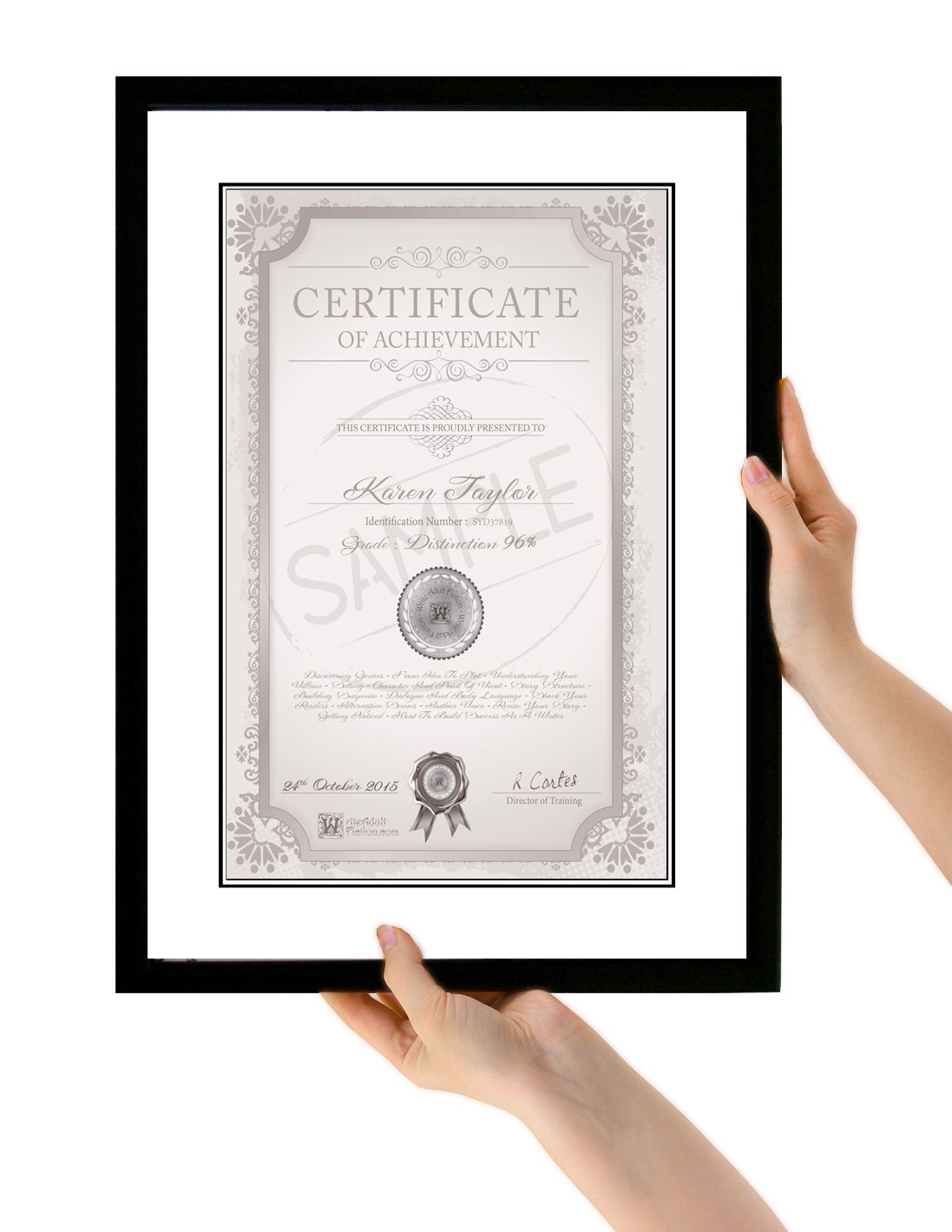 Pursue your passion, attract clients, enhance job prospects, advance your career.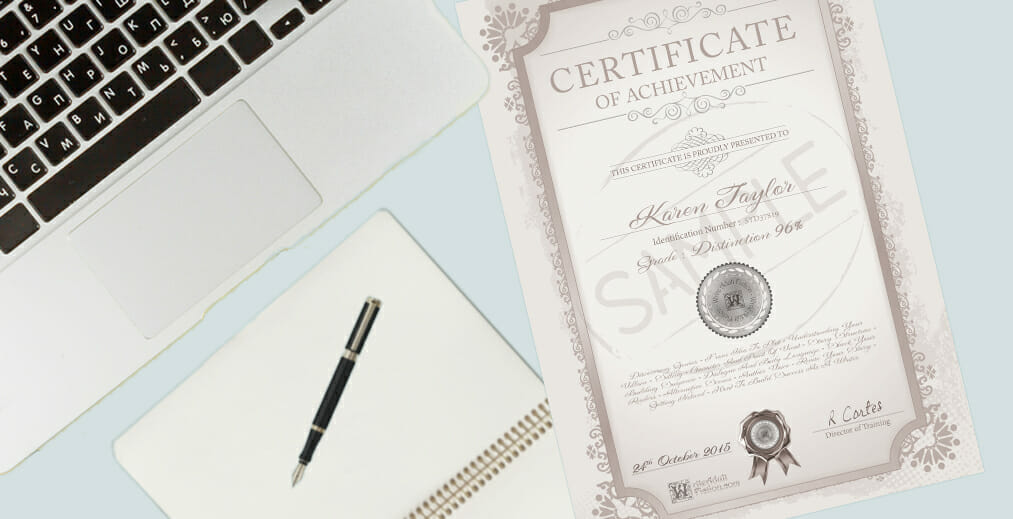 Write Fiction Books is a trusted training provider of schools, colleges and academic institutes worldwide.
By taking this course you gain a genuine certification and the peace-of-mind assurance that the training you are receiving has met strict external quality criteria.
Passing the Write Fiction Books course is an achievement that not only gives you a huge sense of personal pride, but one that also offers significant career advantages.
Many of our students have successfully used their certificates to standout at interviews, earn promotion and attract clients.
Showcase your expertise and credentials
On completion of this comprehensive fiction writing course you will be awarded with a professionally designed, foil seal embossed Certificate of Achievement – printed with your name, grade, passing date and a list of all training modules completed.
A self-printable certificate is available immediately upon course completion. You can also upgrade your completion certificate to a professionally printed, foil seal embossed version (as seen).

Showcase your expertise and credentials
On completion of this comprehensive fiction writing course you will be awarded with a professionally designed, foil seal embossed Certificate of Achievement – printed with your name, grade, passing date and a list of all training modules completed.
A self-printable certificate is available immediately upon course completion. You can also upgrade your completion certificate to a professionally printed, foil seal embossed version (as seen).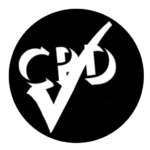 The CPD Certification Service provides independent CPD accreditation compatible with global CPD standards.
As an Accredited Training Provider, you have the assurance that our company and staff have undergone rigorous quality assurance inspections.

As a respected

certification provider you'll also be able to add your certificate to your LinkedIn profile with one-click, right from your course account.
You'll gain instant industry recognition and visibility.
Testimonials
Our Student Success Stories
If you aspire to achieving success as a fiction writer, then the 'Write Fiction Books' course gives you the training, guidance and the inside know-how to get there faster. Trusted by over 140,000 students you'll be joining an elite community of aspiring children's writers of all ages, nationalities, and writing abilities.
Below, you can read a small selection of comments, testimonials and reviews that our students have written about this course (verified by TrustPilot™ and ReviewTrust™). Please also take a moment to read some independent reviews here and here, along with these Student Success Stories.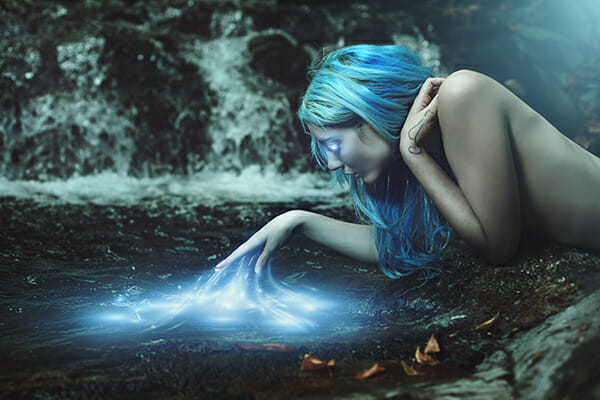 I've been writing historical fiction for a few years now but I still gained quite a lot from the course. It certainly made me a better writer.
Don't get technical at my age. Personal results about how I feel about myself. Great! I am in my 70's but your courses make me feel young and give me hope for my future. I can write.
This is a must-do course. The course was great, it boosted my self esteem and I have actually nearly finished my first book.
Working my way through this course at the moment and am pleasantly surprised by the amount of knowledge shared. It very interesting and so much more than I expected.
This course has had the most impact on my writing, idea generation and true understanding of fiction writing than any book, class or course that I took… and there has been many! It's been a wonderful learning experience. I love the way it is delivered and the content is first class. Thank you! Hurry, with more courses!
I am almost halfway through this course and it has been an incredible experience not just from the perspective of writing fiction but also because it has opened a creative tap inside of me. Every day I find myself thinking about some element such as "peaks and troughs"; building characters so that they are multidimensional and I finding myself looking at my surroundings with a new light switched on….
I am enjoying the course so far and the information given is very useful, particularly with developing writing techniques. I know this will help me considerably in the future. However I have found rather a lot of emphasis given to fantasy/dystopian fiction. It certainly stretches the imagination and makes for a valuable exercise, but I don't see myself ever writing in that genre.
A very well structured and informative writing course 10/10. I found this course to be easily followed and gave me the re-assurance to continue with my story (which I had put away in a drawer years ago) with the added confidence of how to structure it. The Guidance and information given will allow any writer to create their story and to put their ideas, and thoughts down on paper for the enjoyment of others. A must for any budding authors.
Angie Lang
I absolutely loved this course. I got so much out of it and have managed to complete it and send it off to a publisher, who have already taken a bite and asked to see the full manuscript. I owe it all to this course. I will advise anyone interested in writing to do this course. In a score of 1-10 I definitely give it a 10! It was so easy to read and it was set out fantastically.
Jackson Kellogg
Write Fiction Books is a great course. It's very informative and well-organized. I would not suggest this course to a brand-new writer, but rather to someone who has been writing for awhile and would like some extra ideas. It is a wonderful supplement to help you with your writing. As with any source giving advice on writing, make sure to not let the program stifle or restrict your creativity. Take what you like from the course, but don't let it define your style.
Hilda Smith
This is the third in this series of courses that I have taken. Write Storybooks forChildren was truly excellent. The content being of great help to those wanting to write for this genre, with advice on publishers and agents, but also would have given an excellent grounding to anyone wanting to write fiction in any genre. But I truly think this latest, Write Fiction Books, is the best yet, and I will try to convince my writing group colleagues to follow my example and sign up for the course. I am beginning my third book having learned how to do it properly.
Melanie
I'm only on the 2nd module and have found it a really informative course and very practical. So far it has given me the confidence to really believe that I could write the novel. That is actually the reason I haven't got any further than the second module as it gets you putting your ideas down straight away and I want to give it my full attention so have put on going any further until I can put 100% concentration into it. It has a great way so far of helping to set out titles and outlines to really get you started. So if the desire is there but a lack of ideas it is an excellent way to get started and get the brain ticking over.
Casey
I loved it. Would definitely recommend. This course was very informative I would gladly take another.
Kerstin
I have completed this course and was very impressed with its content. The course units provide a great deal of depth into not only the topic of writing and refining your novel/short/story/any piece of writing, but also spend time on advising budding writers on how to make sure that you have the best chance of selling your writing. The action points with exercises were very useful. I am working through these at my own pace and they give good pointers of how to turn pages of notes into something that resembles an actual story. Examples were taken from several vastly different genres to illustrate each point in different ways. I would recommend this for people interested in writing either for future profit or even just their own enjoyment.
I really enjoyed the course and felt every aspect of the subject was thoroughly covered. This course made me feel as if I was being shown the ropes by a good friend of mine, one more than willing to share their secrets.
Must Do This!!! I have been able to reshape my entire novel just by taking this course!!! I love everything about it and so thankful that I stumbled across it.
This is an extremely informative and well-written course. Each chapter contains succinct guidelines for the topic covered. The test at the end of each chapter is an excellent review of the material.
Wonderful course! I love the lay out of the course, and the light hearted way the information is presented, not to mention the material itself. Online courses can be so dry, this one however adds a touch of humour, which goes a long way in the way of actual learning.
As a retired English teacher with an interest in writing fiction, but no experience in doing so, I found the WriteFictionBooks online course to be an interesting and motivating introduction to the writing craft. A lot of basic information is covered on most aspects of writing fiction, so I'm glad that I purchased the textbook version for future reference. The only aspects of the course that disappointed me were some of the mediocre or trivial writing examples given, either by the course writers or from published professionals. I think more quality thinking should be put into those selections. Overall, the course design and graphics were excellent. I would recommend the course to others.
I'm only on the 2nd module and have found it a really informative course and very practical. So far it has given me the confidence to really believe that I could write the novel. That is actually the reason I haven't got any further than the second module as it gets you putting your ideas down straight away and I want to give it my full attention so have put on going any further until I can put 100% concentration into it. It has a great way so far of helping to set out titles and outlines to really get you started. So if the desire is there but a lack of ideas it is an excellent way to get started and get the brain ticking over.
I am very glad I also ordered the book for the course. When I cannot access the Internet, I can still read during little breaks of time to be ready for my next online session. My time is so crowded, with little margin, I appreciate the at-your-own-pace aspects of this course.
Frequently Asked
About The Course
Do I need to attend any classes?
No. The course is entirely e-learning, which means that all modules, tests and resources are delivered to you online through our secure e-learning platform. There are no physical classes to attend. One of the great benefits of e-learning is that you can study the course online, during times convenient to you. Best of all, we give you full life-time access.
Do I need any computer or technical skills?
No. We have designed this course with the most technically challenged user in mind! If you can point and click a mouse (or touch and swipe the screen on your Smart Phone or Tablet device) then you can take this course.
Are there any age restrictions for registering?
The age range of our students varies significantly from school and college students, right up to senior citizens. The course content has been designed to accommodate anyone of any age and ability. However, in the interest of children's online safety we do have a minimum age requirement of 13 years. See our terms and conditions for more details.
Can you tell me who created this course?
Write Fiction Books is the product of many hundreds of hours of work and experience by a world-class team of bona fide best-selling fiction authors and online training experts.
Do I need any writing experience or qualifications?
No prior knowledge, experience or qualifications are required to take this course. The course has been designed for everyone from absolute beginners to keen amateurs; we have assumed nothing in advance. The language used is designed to be simple to understand and the course interface intuitive and easy to follow with no complicated jargon.
How long do I get access to the course for?
You get full, unrestricted life-time access to the course which you can access at any time 24/7. There are no time limits, no restrictions of any kind and no pressure whatsoever!
Are any books or manuals sent to me?
No, all learning is carried out via our secure E-Learn website, all the course content is online for you to access at any time 24hrs a day. The great benefit of e-learning is that you can study at home in your own time and at your own pace.
You can combine achieving professional standard training along with a qualification, in and around your job and family commitments. It is this level of flexibility that makes our e-learning course the ideal choice for most people. All you need is a computer or hand-held device with internet access to take this course.
Will this course be relevant to my country?
The Write Fiction Books course has been created by a team of international best-selling fiction authors, professional editors and established publishers worldwide.
The information, principles, techniques and strategies taught within this course are universal and therefore completely relevant to aspiring and published authors worldwide. Currently, we have students taking the course in more than 50 countries.
Frequently Asked
The Modules
What are the specific modules I will study?
You can learn more about each of the 14 modules within the course here. As part of Write Fiction Books you also receive automatic access to additional areas of the site, such as our download area containing additional training materials along with our chat wall and discussion forum.
Do I have to take any tests during the course?
Yes. We have developed an advanced self-assessment testing system designed to ensure an efficient and effective learning experience. At the end of each module there is a multiple-choice self-assessment test consisting of 10 questions (18 tests in total).
Each test has a minimum passing score which you must achieve before you can move onto the next module in the course. You can take each module test as many times as you like until you pass, at which point your passing results are recorded in our national database and contribute towards your final score. Our testing system assesses your answers and calculates your score instantly.
This means no more waiting days or weeks for an assessor to mark your results and get back to you, like other more outmoded courses.
How am I graded?
Your overall passing grade is calculated as you move through the course and complete each module test. Your final score is an overall average grade of all 18 module tests. Your final grade is then printed onto your pass certificate.
There are no time-limits for completing individual modules and no time limits for taking the tests. However, once you decide to start a test it must be completed in one go. You cannot stop a test midway through and return to it later, like you can with the course content. You can view your course history and your current overall grade at anytime during the course.
We're positive you'll find it a delightful, relaxing and effective way of learning.
What is LearnLock™ Technology?
LearnLock™ Technology has been scientifically developed by award-winning e-learn experts to 'lock' the course training in your cerebrum, which is the large, outer part of the brain that controls your reading, thinking, and learning.
Using a proprietary blend of expertly crafted content, stimulating imagery, subtle animation, color psychology, smart interactions, lively simulations, fun gamification, and practical quizzes, LearnLock™ Technology enables a typical learner to effortlessly absorb the course material incomparably quicker and easier than 98% of conventional online courses, which use basic text or video alone.
The result is not only a significantly more immersive, engaging and enjoyable learning experience but vastly enhanced retention and recall of key knowledge and skills.
Can I view the course on my Smart Phone or tablet device?
Yes! The course is fully compatible with all tablet devices such as iPads. This course has also been beautifully designed to work within any browser on a tablet, smart phone, computer or laptop.
Frequently Asked
Certification
Can you tell me more about the certificate I will receive?
Everyone who completes the course receives an attractive pass certificate which details all of the modules you have completed. Your certificate will indicate a percentage grade to show how well you have completed the test questions.
You will receive a self-printable PDF version of your certificate which you can download immediately on completing the final module of the course. A high quality, professionally printed edition is available on request.
What are your company's credentials?
As a Registered Training Provider and internationally accredited company, you have the assurance that our team have undergone rigorous quality assurance inspections, and have met stringent criteria and background checks to ensure that both our company and the training we deliver meet the highest standards.
Write Fiction Books has also been awarded exemplary accreditation by CPD (Continuing Professional Development). The CPD Certification Service provides a formal, independent certification of organizations, materials and development activities. These certificates are commonly sought out by teachers, doctors and other professionals to further their career and credentials.
We are also a trusted training partner of schools, colleges and training institutes worldwide.
Have any students gone on to get published?
Yes! We have thousands of happy students, and many of them have gone on to achieve great things after completing our course. Check out our case studies page to see some of our student success stories.