How to Identity and Cut Your Crutch Words
All writers have weaknesses, and for many of us they're hidden within our sentences. Crutch words. These are the words we overuse, words that don't add to the story itself and often aren't even needed.
Whether you're out to cut bulk from a too-long manuscript or simply hoping to strengthen your prose, the tips below will have you writing clearer, better fiction in no time.
Crutch Words 101
How do you find them?
A good way to start identifying your crutch words is to count them. No by yourself, of course. You can use a word cloud generator (pictured above) or a word frequency counter. Paste your entire document into these generators, and check the count.
Either of these methods will include words you can ignore (the, he, she, your main character's name), though you can also remove these words on the word cloud generator if you find those distracting.
Scan your results, and you may be surprised. In the example above (used with permission from author Alyssa Hollingsworth), we can spot some of the common crutch words like "just", "know/knew", and "see". But it's easy to tell this manuscript has its own unique overused words, like "hand", "eyes", or "back".
By eliminating some of these repetitive words, the prose overall will be made stronger.
Common Crutches
Though your personal crutch words will vary depending on your own style and your project, there are some that almost everyone has in common. Check the list below and see if you recognise any!
Just
Heard/hear
See/saw
Really
Quite
Felt/touch
Wonder
Realize
Watch
Look
Feel
That
Seem/Seems/Seemed to
Nearly
Appear/Appeared to
Beginning to
So
Slightly
Almost
A bit
A lot
Very
Examples
Skeptical that these little words could make such a big difference in your prose? Check out the examples below!
Before:
It seemed like the prince was about to kneel, and then he did. He held the glass slipper gently, almost tenderly, in one hand. He tilted his head back slightly, apparently to look at her. "May I?"
After:
The prince knelt, glass slipper held gently in one hand. He glanced up. "May I?"
In the first example, the wordiness threatens to stall the action. Every verb is modified, so that we end up with a muddy text.
In the edited example, the prose is much tighter and cleaner. We get straight to the point without losing nice details, like the way he holds the slipper. With less time spend on "seemed" and "almost", we have more time to get straight to the next exciting part of the scene.
Before:
My fingers nearly tremble, but this time it's not really a lot of hunger or sadness that seems to gnaw my insides. It's an almost painful warmth. Hope.
After:
My fingers tremble, but for once it's not the hunger or the sadness that's gnawing my insides. It's a painful warmth. Hope.
Sometimes, cutting or changing our crutch words can feel like we're losing the beauty of the writing. But here, the edited bit of prose is still poetic and even poignant. It's just much cleaner. We get to keep the pretty pieces that make this sentence sing, but it does so even better when it's not jumbled up in unnecessary words.
Before:
I think I might have realized what's really going on: A supervillain appears to live on my street. And I feel like that's basically the headline news that I'm looking for.
After:
Here's the scoop: A supervillain lives on my street. And it's just the sort of headline news I'm looking for.
In this example, we not only get tidier prose—we get a huge change in the style of narration. While the "before" narrator is vague, undecided, and wordy, the second is snappy, quick, and energetic. You probably wouldn't be surprised to find out this is the narration of a kid reporter.
Eliminating these words not only tidies the prose and strengthens the emotion, it can help you emphasize your character's unique voice.
What next?
Delete! Delete! Delete!
Once you have a list of the crutch words in your manuscript, you're ready to start revising. There are a couple of different ways to do this:
1. Print it out. When your writing is on paper, the flaws are revealed in ways that just don't come across on the screen. To mix it up, try changing the line spacing or margins—this will force you to look at the text in an even newer way. Keep your list handy and read with an eye for the crutch words.
2. Use your word processor's "replace" function. Put the crutch word into both Find and Replace, but change the formatting preferences in the replace bar to "highlight". This will light your pages up like a Christmas tree and make it impossible to miss those words.
3. Listen to your manuscript. Read it out loud yourself, or have a friend or program read it to you. Again, keep that list handy and mark down changes when your trouble words pop.
With these tools in your pocket, you're ready to embark on the next level of revision—and your manuscript will thank you for it.
Read our Latest Articles for Writers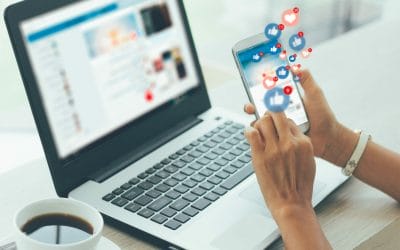 Today we are talking about a topic that intimidates many writers and illustrators, social media. Good news! It doesn't have to.  The key is to choose the platform that is most enjoyable to you. The one you don't mind spending time on and fosters authentic...
read more
Subscribe to our mailing list
Be the first to find our about our newest blogs, offers and news from Write Academy!