How to Create a Beautiful Story Aesthetic
Story aesthetic graphics can be a fabulous way to brainstorm, build your world, and to share your excitement about your manuscript. But what is a story aesthetic? It's something a little like this:
A story aesthetic is a collage of images that capture the mood or visuals of your story. It can capture the story as a whole, or one particular aspect of the story—like a specific character, location, or moment. 
A quick note about image use: In your personal graphics, you can use images from anywhere — this falls under private use. However, if you are using copyrighted images (e.g. about anything from Pinterest), you shouldn't use these graphics for official promotion like stickers or postcards. You'll want to use free stock images for that. We'll go over this a little more in the section below about where to find your pictures. 
Finding Your Pictures
Pinterest
An obvious source for your private use images is Pinterest. Check out our blog entry about using this great resource for your brainstorming! If you're just making a graphic for yourself and your friends, you can grab whatever inspired you on Pinterest and plop it into a collage. Viola, aesthetic! 
(See example on the left, with images from this board and featuring art from Līga Kļaviņa.)
Movie Stills and Historic Photos
Screenshots from movies (especially ones that feature an actor you've cast for your character) can be another great place to find gripping images. If you have a specific moment in mind (for instance, a woman reading a letter) then you can look for a shot that captures that action without showing the well-known character in the shot. And if you're working on historical fiction, you might be able to find some historic images that are now free of their copyright.
Stock Photography
If you want to be extra careful, you can always use stock photos. Unsplash has a vast collection of deeply atmospheric images and is a great place to start. There's also Reshot, Gratisography, StockVault, and Pexels. Or dozens more!
Illustrations
Finally, if you plan to use illustrators or artwork, it's a very nice gesture to include credit for the original artists when you share your graphic. While it can be difficult to trace a photograph to its original source, normally with art it can be as simple as putting the image into a Google search and finding the artist's name.
(In our example, all the illustrations are by Laura Hollingsworth)
What next?
​How to Make a Story Aesthetic
You don't need to have experience in Photoshop to make a story aesthetic! We recommend Canva, which has plenty of templates and pre-made set-ups. (The graphic on the right is directly from a Canva template!) This turns the whole process into a simple drag-and-drop. Canva also offers filters and photo editing that can help you achieve the mood you'd like. 
If you're more confident with photo editors, you can obviously get more wacky in Photoshop (like in the example on the left!). But you can put together a nice simple image with Canva alone!
Creative Ideas for Your Story Aesthetic
But what if you want more than just a collection of images? Well, here are some ideas to take your story aesthetic to the next level.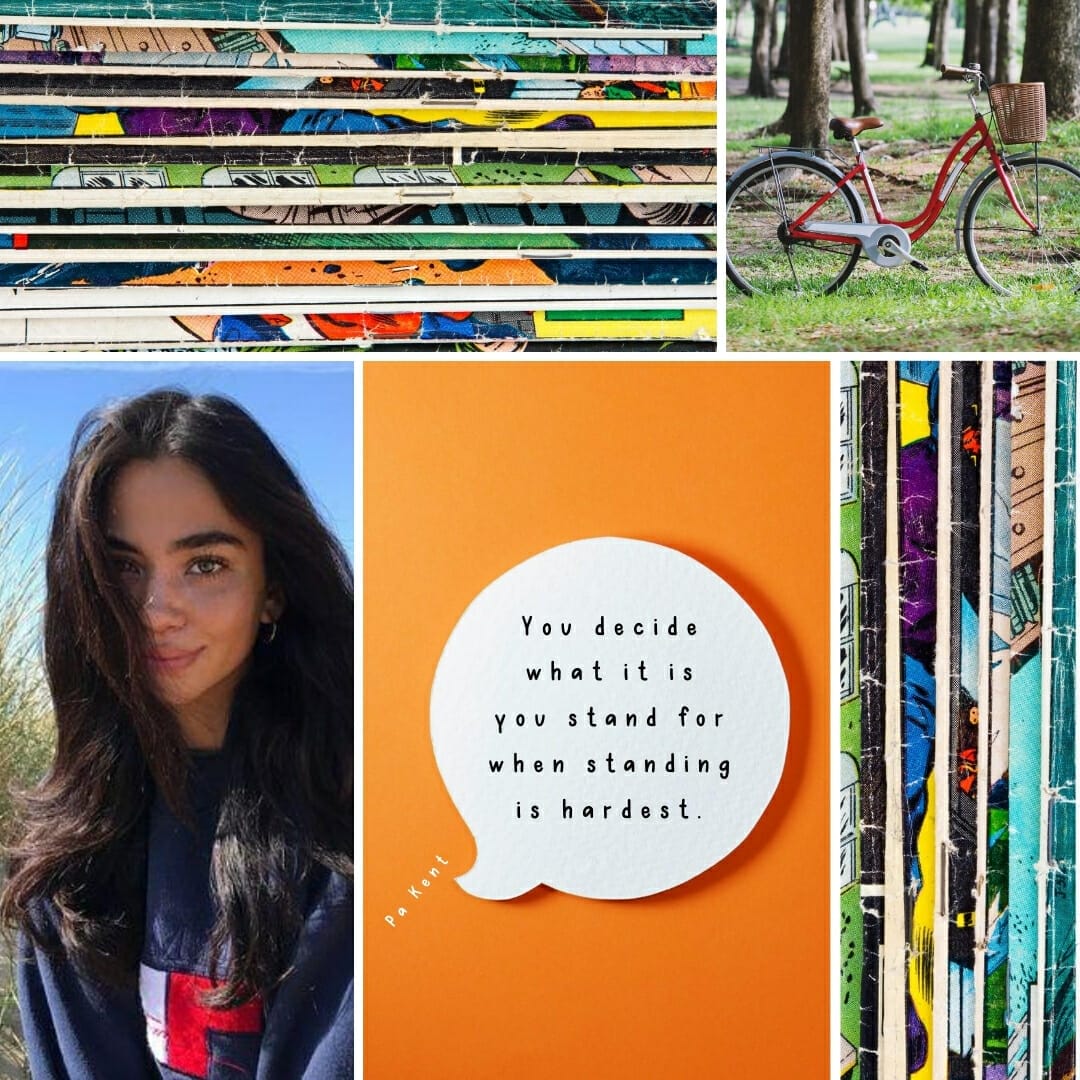 Quotes
Does one of your characters say something particularly intriguing? Or maybe they have a favorite quote from somewhere else? You can use that to add interest to your image. Whether you add it in a small font to act more as a texture (not necessarily meant to be read) or make it stand out in one of the image boxes, this can be a fabulous way to add some visual interest. It also is a great method of challenging yourself to brainstorm an important phrase or quote, maybe even the hook that starts your story. 
Creative Cropping
Often you might come across an image that works for what you want, but maybe the person in it isn't wearing the right clothes, or their face isn't quite right for your character. That's where creative cropping comes in! Get experimental and see if you can crop your image a certain way that highlights what you want to show, without featuring the element you'd like to leave out. This is most often seen with the cropping of faces — cut them off right about the end of the nose, and you get a mysterious look that lets the viewer fill in the face.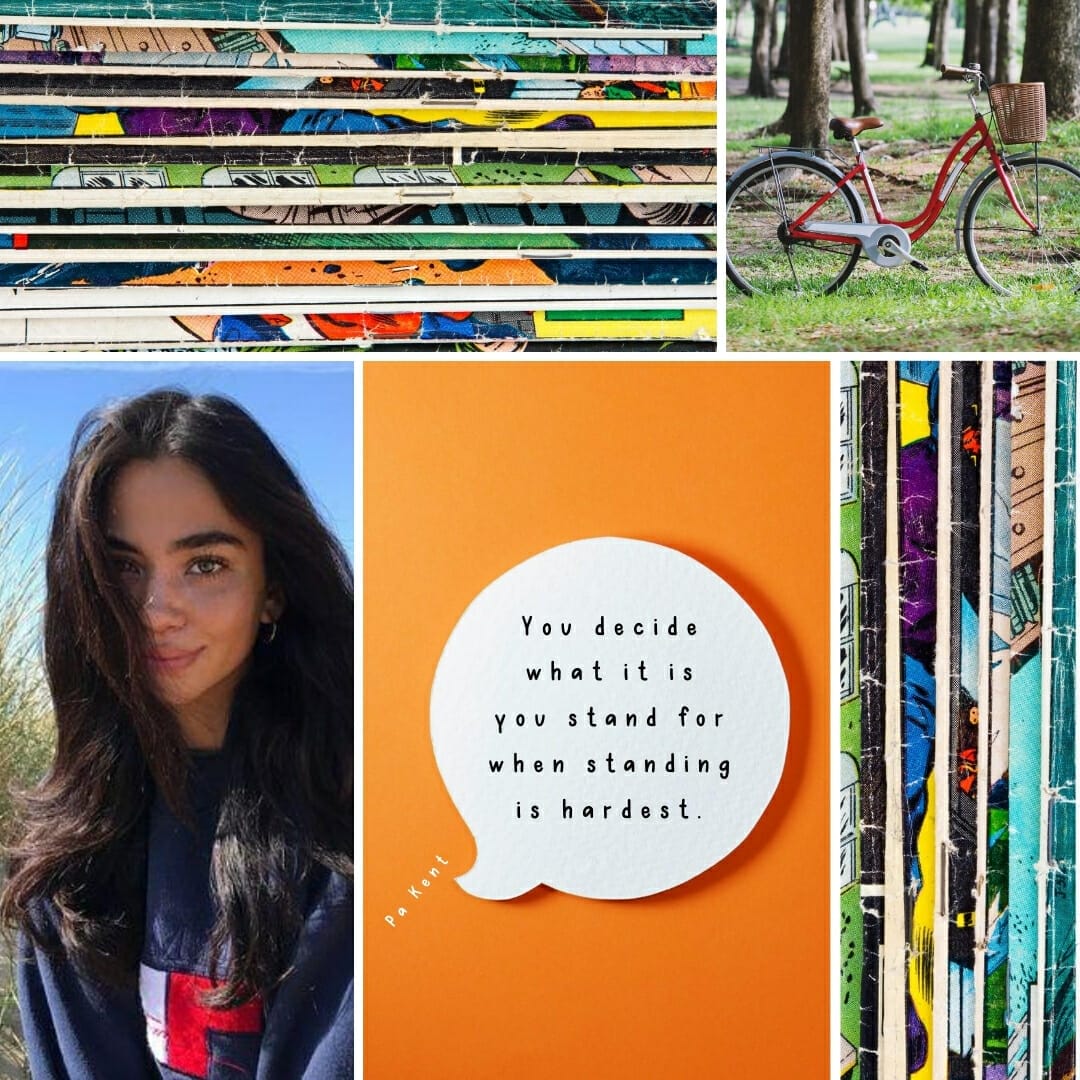 Desktop Wallpaper
Is a graphic not big enough for you? Try making a wallpaper! The possibilities are endless for this, and it can be a great way to get instant inspiration when you open your computer. Author Alyssa Hollingsworth has a great guide to making desktop collages. Check it out if you want more ideas!
The possibilities for story aesthetics are endless, and the best part is that it's an immersive, visual way for you to experience your story. We recommend playing your story playlist while you work!
Read our Latest Articles for Writers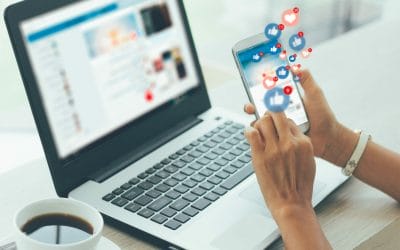 Today we are talking about a topic that intimidates many writers and illustrators, social media. Good news! It doesn't have to.  The key is to choose the platform that is most enjoyable to you. The one you don't mind spending time on and fosters authentic...
read more
Subscribe to our mailing list
Be the first to find our about our newest blogs, offers and news from Write Academy!