There's something special about witches. With their trusty familiars, pointy hats and capacity for amazing feats, they are certainly fun to write and just as much fun to read!
Once upon a time, they were seen as a very real thing to be frightened of, but the magic they left behind is truly spellbinding.
Let us put a spell on you as we count down our top 10 children's stories about witches!
The House with Chicken Legs by Sophie Anderson
No witch list would be complete without a nod to their fairytale beginnings, and The House with Chicken Legs is the perfect spellbinding read. 
Every night, 12-year-old protagonist Marinka attends a party, with food, dancing and fun… except all the guests are dead. Her grandmother is a Yaga, the guardian of The Gate, ushering the dead through. Marinka wants nothing more than a normal life, but venturing into the world of the living means giving up everything.
The Lion, the Witch and the Wardrobe by C.S. Lewis
From one classic witch to another, C.S. Lewis' eponymous witch plays the villain role perfectly.
She's cruel, manipulative and powerful, keeping Narnia in an enternal winter and doing everything she can to keep the goodness of Aslan at bay. She's evil through and through… which makes her so much fun to read.
Whether she's ensnaring Pevensie children or twisting Aslan's words, there's no guessing what she'll do next!
The Worst Witch by Jill Murphy
Long before we wanted to go to Hogwarts, we were desperate to take a visit to Miss Cackle's Academy for Young Witches!
Mildred Hubble may be the 'worst' witch, but she's also someone that captured our imagination by how plain normal she is.
She's clumsy, shy and cares deeply about her friends. She feels far more like a pal than a protagonist, which is perfect for letting readers escape into the story. With amazing worldbuilding and characters you really care about, this series is perfect for all ages.
Meg and Mog by Helen Nicoll and Jan Pieńkowski 
While witches were once terrifying, our next entry is anything but.
First published in the 1970's, Meg and Mog have gone on donzens of adventures and entertained countless children along the way.
Along with her trusty familiar, Meg's magical exploits are sure to capture imaginations even now!
Winnie the Witch by Valerie Thomas and Korky Paul
Meg may have been the picture of calm serenity, but Winnie is anything but!
In her first story, Winnie can never see her black cat Wilbur in her aesthetically-witchy black house. In a fit of frustration, she turns the poor cat bright green. But when he goes to sulk in the back garden, she comes up with another, more colourful solution.
Alongside the fabulous characterisation, Winnie's stories wouldn't be the same without Korky Paul's exquisite illustrations. With incredible attention to detail and fun nods to tradition, there's always something new to see!
Witch for a Week by Kaye Umansky (illustrated by Ashley King)
Witch for a Week might be the newest title on our list, but we definitely can't wait to read every one of Kaye's books!
In this bewitching tale, Elsie Pickles offers to house-sit for a witch who lives down the street… but she soon realises this is more than she bargained for.
Left with a talking raven, a magical book called 'Everything You Need to Know' and an array of magical happenings, Elsie finds herself delving deeper into the world of witchcraft.
Elsie's amazing character and this fun take on traditional witchiness is sure to make this story a classic!
Room on the Broom by Julia Donaldson and Axel Scheffler
We may enjoy scary witches, but we can't get enough of nice ones too!
In this fun story, a nighttime broomstick ride is thrown off-kilter when too many friends try to ride along. 
With some fabulous Donaldson-eque rhymes and classic Scheffler illustration, this story is perfect for reading aloud or for children looking to build their reading confidence. 
Gobbolino the Witch's Cat by Ursula Moray Williams
We couldn't complete our list without sneaking in a story featuring a trusty feline companion!
Born in a witch's cave with sparkling blue eyes and a single white paw, Gobbolino soon realises he doesn't want to be bad. All he wants into find a normal family of his own, and settle down as a kitchen cat.
The adventures he faces as he sets out to find his family are truly timeless.
Magyk by Angie Sage
Just like we can't leave out magical cats, we thought wizards could do with a mention too!
For the Heap family, life is simple and mostly happy. But an evil necromancer is hellbent on controlling all things Magykal, and the fate of the world rests in the hands of a boy who doesn't know who he is.
This seven book series is packed with worldbuilding, exciting quests, incredible characters and twists and turns galore. It's perfect for Middle Grade readers, but we're certain everyone will fall under its spell.
The Witches by Roald Dahl (illustrated by Quentin Blake)
And last, but definitely not least, we can't miss out the source of countless nightmares, can we?
In this standalone story, witches are evil, cruel, and very, very real. They hatch plans to get rid of children everywhere, disguising themselves as ordinary women to blend in.
But when a witch-hunting grandmother and grandson accidentally crash the biggest gathering of witches, it's up to them to put a stop to their evil plans, once and for all! 
This story is perfect for young readers getting to grips with chapter books, and who don't mind a genuine fright either.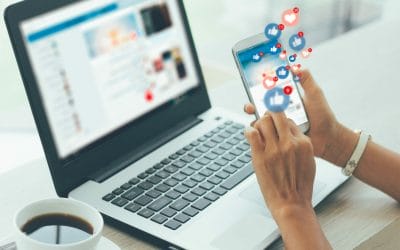 Today we are talking about a topic that intimidates many writers and illustrators, social media. Good news! It doesn't have to.  The key is to choose the platform that is most enjoyable to you. The one you don't mind spending time on and fosters authentic...